WGAW President, 1962-1963
James R. Webb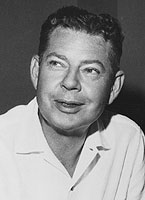 Academy Award-winning writer James R. Webb's credits include Rags to Riches (1941), Apache (1954), Trapeze (1956), The Big Country (1958), Cape Fear (1962), the Oscar-winning How the West Was Won (1962), They Call Me Mister Tibbs (1970), and The Organization (1970).
In addition to his stint as WGAw president, he was a founder and former president of the International Writers Guild, former national chairman of the WGA, secretary of the Screen Writers Guild, and president of the Writers Guild Foundation. Webb was also chairman of the Producers-Writers Pension Plan.
He was born in Denver on October 4, 1909, and graduated from Stanford University in 1930. Webb served in World War II in Europe as major. He died in Los Angeles on September 27, 1974.