The Guild Screenings
December 2018
Greetings from the Guild Screenings! Remember: Parking is now FREE at our Theater on garage levels 4 and up. Enter/Exit at alley gate only.

We are in the climax of awards season and holidays, which means a packed month of art films and blockbusters. On the big side, we have SPIDER-MAN: INTO THE SPIDER-VERSE, AQUAMAN, and BUMBLEBEE. More modestly scaled are WELCOME TO MARWEN and THE MULE. On the indie side, we draw your attention to VOX LUX and ON THE BASIS OF SEX. We also have four acclaimed foreign titles: SHOPLIFTERS, CAPERNAUM, SULLA MIA PELLE, and COLD WAR.
We have also booked a number of exciting Q&A's. On Sunday, December 2nd, we welcome co-writers Phil Hay & Matt Manfredi to discuss their character-driven DESTROYER. On Monday, December 3rd, Fran Walsh & Philippa Boyens & Peter Jackson will appear after their extravaganza MORTAL ENGINES. On Saturday, December 8th, co-writers David Magee & John DeLuca & co-writer/director Rob Marshall will speak after their highly-anticipated MARY POPPINS RETURNS. On Sunday, December 9th, writer/director Peter Hedges will discuss his heartfelt BEN IS BACK. On Friday, December 14th, writer/director Adam McKay will entertain us after his biopic VICE.
And, then... on Saturday, December 22nd, just in time for Christmas, co-writer Steven E. de Souza will join us for a 30th Anniversary Screening of DIE HARD! Enjoy the thrills and laughs of this amazing movie again, then afterwards, Steven will entertain us with juicy behind-the-scenes stories.
As always, members may bring TWO GUESTS to all regular screenings, except where noted. Seating is first come, first serve. We ask that members frequent the food and drink offerings from Homeboy Industries before the film. On weekends, we serve popcorn, beverages, salads, sandwiches, and fresh pastries. Only popcorn and water are allowed inside the theater, and patrons may not bring in outside food.
CLICK ON MOVIE TITLES TO VIEW TRAILERS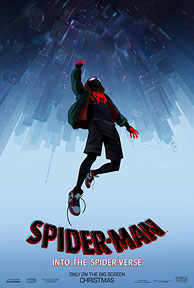 Saturday, December 22
11:00 (3D) & 8:30 (2D)
Spider-Man crosses parallel dimensions and teams up with the Spider-Men of those dimensions to stop a threat to all reality.
Screenplay by Phil Lord and Rodney Rothman
Story by Phil Lord
Based on The Marvel Comic
Produced by Avi Arad, Amy Pascal, Phil Lord, Christopher Miller, Christina Steinberg
Directed by Bob Persichetti, Peter Ramsey, Rodney Rothman
Voice Cast: Shameik Moore, Jake Johnson, Hailee Steinfeld, Mahershala Ali, Brian Tyree Henry, Lily Tomlin, Luna Lauren Velez, John Mulaney, Kimiko Glenn, Nicolas Cage, Liev Schreiber
FAMILY MATINEE: Members may bring up to 3 guests (ages 3 and up) to the 11:00am screening.
Rated PG, 108 minutes, Print Courtesy of Columbia Pictures, Marvel and Sony Pictures Animation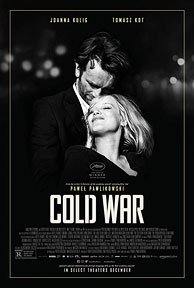 Saturday, December 22
2:00
An impossible love story in impossible times, during the 1950s Cold War in Poland, Berlin, Yugoslavia and Paris. A sweeping romantic epic told in the style of Old Hollywood glamour, visually stunning and compassionate. Winner, Best Director at the Cannes Film Festival.
Screenplay by Paweł Pawlikowski and Janusz Głowacki in collaboration with Piotr Borkowski
Story, Direction, Image by Paweł Pawlikowski
Produced by Tanya Seghatchian, Ewa Puszczyńska
Cast: Joanna Kulig, Tomasz Kot, Borys Szyc, Agata Kulesza, Cédric Kahn, Jeanne Balibar
This film is in Polish, French, German, Russian, Italian and Croatian with English subtitles.
Rated R, 88 minutes, Print Courtesy of Amazon Studios
Saturday, December 22
5:00
John McClane, NYPD cop, tries to save his wife and others that were taken hostage by German terrorist Hans Gruber during a Christmas party at LA's Nakatomi Plaza. A modern classic! Brilliant storytelling, slam-bang action and a perfect cast deliver a thrilling entertainment that created an entire genre ("Die Hard on a --"). See it again on the big screen!
Q&A with Steven E. de Souza following this screening.
Screenplay by Jeb Stuart and Steven E. de Souza
Based on the Novel "Nothing Lasts Forever"by Roderick Thorp
Produced by Lawrence Gordon
Directed by John McTiernan
Cast: Bruce Willis, Alan Rickman, Alexander Godunov, Bonnie Bedelia
Rated R, 132 minutes, Print Courtesy of Twentieth Century Fox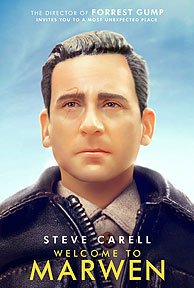 Sunday, December 23
11:00 & 8:00
When a devastating attack shatters Mark Hogancamp and wipes away his memories, no one expects recovery. Putting together pieces from his old and new life, Mark meticulously creates a wondrous miniature town where he can heal and be heroic. As he builds an astonishing art installation and fantasyworld, he draws strength to triumph in the real one. Inspired by a true story.
Screenplay by Robert Zemeckis and Caroline Thompson
Based on the Documentary Feature Marwencol
Produced by Robert Zemeckis, Jack Rapke, Steve Starkey, Cherylanne Martin
Directed by Robert Zemeckis
Cast: Steve Carell, Leslie Mann, Diane Kruger, Merritt Wever, Janelle Monáe, Eiza González, Gwendoline Christie, Leslie Zemeckis, Neil Jackson
Rated PG-13, 116 minutes, Print Courtesy of Universal Pictures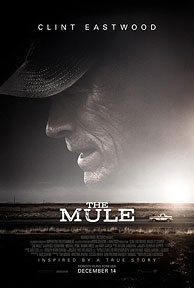 Sunday, December 23
2:00
Broke, alone and facing foreclosure, Earl Stone takes a job as a drug courier for a Mexican cartel. His immediate success leads to easy money that soon draws the attention of a hard-charging DEA agent. When Earl's past mistakes start to weigh on his conscience, he must decide whether to right those wrongs before law enforcement and cartel thugs catch up to him.
Written by Nick Schenk
Inspired by the New York Times Magazine article 'The Sinaloa Cartel's 90-Year-Old Drug Mule' by Sam Dolnick
Produced by Tim Moore, Kristina Rivera, Jessica Meier, Dan Friedkin, Bradley Thomas
Produced and Directed by Clint Eastwood
Cast: Clint Eastwood, Bradley Cooper, Laurence Fishburne, Michael Peńa, Dianne Wiest, Andy Garcia
Rated R, 116 minutes, Print Courtesy of Warner Bros. Pictures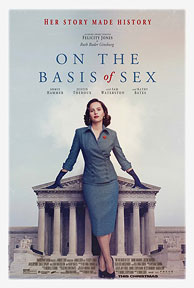 Sunday, December 23
5:00
The story of Ruth Bader Ginsburg, her struggles for equal rights ,and what she had to overcome in order to become a U.S. Supreme Court Justice.
Written by Daniel Stiepleman
Produced by Robert Cort, Jonathan King
Directed by Mimi Leder
Cast: Felicity Jones, Armie Hammer, Justin Theroux, Jack Reynor, Cailee Spaeny, Sam Waterson, Kathy Bates
Rated PG-13, 120 minutes, Print Courtesy of Focus Features
Friday, December 28
8:00
Legendary detective Sherlock Holmes and his partner Doctor Watson return for a comedic take on their classic literary partnership, as they use their incredible deductive minds to solve a mystery.
Written and Directed by Etan Cohen
Sherlock Holmes and Dr. Watson were Created by the late Sir Arthur Conan Doyle
Produced by Will Ferrell, Adam McKay, Jimmy Miller, Clayton Townsend
Cast: Will Ferrell, John C. Reilly, Rebecca Hall, Rob Brydon, Kelly Macdonald, Ralph Fiennes
Not Yet Rated, 90 minutes, Print Courtesy of Columbia Pictures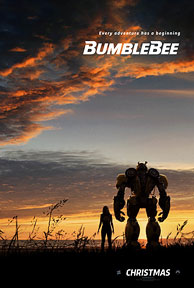 Saturday, December 29
11:00
On the run in the year 1987, Bumblebee finds refuge in a junkyard in a small Californian beach town. Charlie, on the cusp of turning 18 and trying to find her place in the world, discovers Bumblebee, battle-scarred and broken.
Written by Christina Hodson
Based on Hasbro's Transformers™ Action Figures
Produced by Don Murphy and Tom DeSanto, Lorenzo di Bonaventura, Michael Bay, Mark Vahradian
Directed by Travis Knight
Cast: Hailee Steinfeld, John Cena, Jorge Lendeborg Jr., John Ortiz, Jason Drucker, Pamela Adlon, Stephen Schneider
Rated PG-13, 114 minutes, Print Courtesy of Paramount Pictures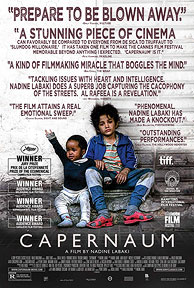 Saturday, December 29
2:00
After fleeing his abusive parents, a hardened, streetwise 12-year-old boy sues them to protest the life they've given him.A neorealist stunner, combined with one of the greatest baby performances of all time.Winner of the Jury Prize at the Cannes Film Festival.
Written by Nadine Labaki, Jihad Hojeilly, Michelle Keserwany with the collaboration of Georges Khabbaz & Khaled Mouzanar
Produced by Khaled Mouzanar
Directed by Nadine Labaki
Cast: Zain Al Rafeea, Yordanos Shiferaw, Boluwatife Treasure Bankole
This film is in Arabic and Amharic with English subtitles.
Rated R, 121 minutes, Print Courtesy of Sony Pictures Classics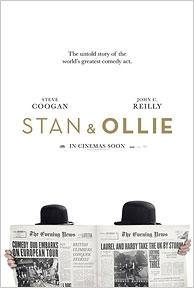 Saturday, December 29
5:00
Laurel and Hardy, the world's most famous comedy duo, attempt to reignite their film careers as they embark on what becomes their swan song - a grueling theater tour of post-war Britain.
Written by Jeff Pope
Produced by Faye Ward
Directed by Jon S. Baird
Cast: Steve Coogan, John C. Reilly, Nina Arianda, Shirley Henderson, Danny Huston, Rufus Jones
Rated PG, 97 minutes, Print Courtesy of Sony Pictures Classics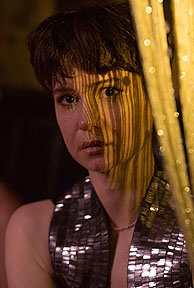 Saturday, December 29
8:00
An American woman returns to Brussels, where her celebrity husband died mysteriously in a luxury loft a year before. She begins to retrace his final days, uncovering a sleazy best friend she's never met and other secrets he was keeping from her.
Written and Directed by Meredith Danluck
Produced Julia Lebedev, Angel Lopez, Eddie Vaisman
Cast: Katherine Waterston, Michael Shannon, Luke Evans, Michiel Huisman, Mary Kay Place
Not Yet Rated, 104 minutes, Print Courtesy of The Orchard
As a courtesy to your fellow members, please turn off all cell phones, pagers, etc., and refrain from talking during the screenings.
Screenings are held at: Writers Guild Theater, 135 S. Doheny Drive, Beverly Hills 90211
Seating is on a first-come first served basis.
WGAW Membership cards are required to attend The Guild Screenings and must be presented by the WGAW member. Your WGAW membership card allows you to bring TWO guests. If you are not a member of the WGAW, you will not be allowed admittance. For recorded Guild Screenings information, please email Guild Screenings or call (323) 782-4591. Please read our Rules and Regulations before attending the screenings.
Guild Screenings Office: (323) 782-4508 or email Guild Screenings.
PLEASE REMEMBER: OUTSIDE FOOD & DRINKS ARE PROHIBITED IN THE WGA THEATER