The Guild Screenings
February 2020
Welcome to the Guild Screenings! Please feel free to visit your theater early, to schmooze and banter with your fellow scribes.

As awards season comes to an end, there's a little something for everyone in February at the Guild Theater. From thrillers (THE RHYTHM SECTION, THE WHISTLERS) to offbeat comedies (BUFFALOED, DOWNHILL, GREED) to character studies (SAINT FRANCES, PREMATURE, THE PHOTOGRAPH).
We also have two great Q&As. On Sunday, February 16th, we welcome writer Christina Hodson following a screening of her female driven super(anti)hero movie, BIRDS OF PREY AND THE FANTABULOUS EMANCIPATION OF ONE HARLEY QUINN. Then on Friday, February 28, we have a very special evening: We celebrate Black History Month with the Committee of Black Writers, who will host a 25th Anniversary Screening of WAITING TO EXHALE (in 35mm!), followed by a Q&A with co-writer Terry McMillan. Light reception to follow.
As always, members may bring TWO GUESTS to all regular screenings, except where noted. Seating is first come, first serve. We ask that members frequent the food and drink offerings from Homeboy Industries before the film. On weekends, we serve popcorn, beverages, salads, sandwiches, and fresh pastries. Only popcorn and water are allowed inside the theater, and patrons may not bring in outside food. Free parking is available on garage levels 4 and up only. We'll see you at the movies!
CLICK ON MOVIE TITLES TO VIEW TRAILERS
Sunday, February 23
11:00 a.m.
In this adventure film set in the 1890s, a big-hearted dog's life gets turned upside down, when he's suddenly uprooted from California and transplanted to the exotic wilds of the Alaskan Yukon. Adapted from the classic novel by Jack London.
Screenplay by Michael Green
Based upon the Novel by Jack London
Produced by Erwin Stoff
Directed by Chris Sanders
Cast: Harrison Ford, Dan Stevens, Omar Sy, Karen Gillan, Bradley Whitford, Colin Woodell
Rated PG, 105 minutes, Print Courtesy of Twentieth Century Fox
Sunday, February 23
2:00 p.m.
A chronicle of the year leading up to the assassination of Israeli Prime Minister Yitzhak Rabin. This film shows how a world of hate incites the disturbing descent of a promising law student into a delusional ultranationalist, who is obsessed with murdering his country's leader.
Written by Ron Leshem, Varon Zilberman
Produced by David Silber, Sharon Harel, Tamar Sela, Varon Zilberman
Directed by Varon Zilberman
Cast: Yehuda Nahari Halevi, AmitayYaish Ben Ousillo, Anat Ravnizky, Yoav Levi, Dolev Ohana, Raanan Paz, Sivan Mast, Daniella Kertesz
This film is in Hebrew with English subtitles.
Rated, 123 minutes, Print Courtesy of Greenwich Entertainment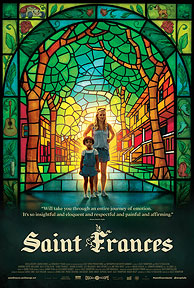 Sunday, February 23
5:00 p.m.
After an accidental pregnancy turned abortion, a deadbeat nanny finds an unlikely friendship with the six-year old she's charged with protecting. A melancholy, but very funny slice of life, featured at the SXSW Film Festival.
Screenplay by Kelly O'Sullivan
Produced by James Choi, Pierce Cravens, Ian Keiser, Eddie Linker, Raphael Nash, Alex Thompson, Roger Welp
Directed by Alex Thompson
Cast: Ramona Edith-Williams, Kelly O'Sullivan, Charin Alvarez, Lily Mojekwu, Max Lipchitz, Jim True-Frost
Rated, 106 minutes, Print Courtesy of Oscilloscope Laboratories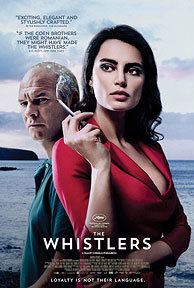 Sunday, February 23
8:00 p.m.
In this entertaining, offbeat crime thriller, a police inspector in Bucharest is busy playing both sides of the law. Embarking with a beautiful woman on a high-stakes heist, they move through levels of corruption and deception, while trying to learn a secret whistling language in the Canary Islands.
Written and Directed by Corneliu Porumboiu
Produced by Marcela Ursu, Patricia Poienaru
Cast: Vlad Ivanov, Catrinel Marlon, Rodica Lazar, Antonio Buil, Agustí Villaronga, Sabin Tambrea
This film is in Romanian with English subtitles
Rated, 97 minutes, Print Courtesy of Magnolia Pictures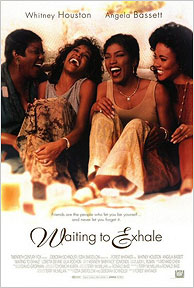 Friday, February 28
7:30 p.m.
Navigating through careers, family and romance, four friends (Angela Bassett, Whitney Houston, Lela Rochon, and Loretta Devine) bond over the shortcomings in their love lives -- namely, the scarcity of good men. Based on Terry McMillan's novel.
Screenplay by Terry McMillan & Ronald Bass
Based on the Novel by Terry McMillan
Produced by Ezra Swerdlow, Deborah Schindler
Directed by Forest Whitaker
Cast: Whitney Houston, Angela Bassett, Loretta Devine, Lela Rochon
Rated R, 124 minutes, Print Courtesy of Twentieth Century Fox and Criterion Pictures USA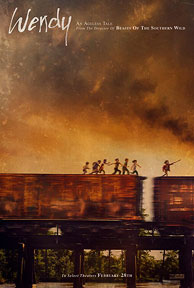 Saturday, February 29
2:00 p.m.
Lost on a mysterious island where aging and time have come unglued, Wendy must fight to save her family, her freedom, and the joyous spirit of youth from the deadly peril of growing up, in this new spin on J.M. Barrie's PETER PAN.
Written by Benh Zeitlin & Eliza Zeitlin
Produced by Dan Janvey, Paul Mezey, Josh Penn
Directed by Benh Zeitlin
Cast: Tommie Lynn Milazzo, Shay Walker, Stephanie Lynn Wilson
Rated PG-13, 112 minutes, Print Courtesy of Fox Searchlight Pictures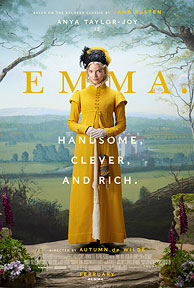 Saturday, February 29
5:00 p.m.
Jane Austen's beloved comedy about finding your equal and earning your happy ending is reimagined in this delicious new film adaptation. Handsome, clever, and rich, Emma Woodhouse is a restless queen bee without rivals in her sleepy little town. She must adventure through misguided matches and romantic missteps to find the love that has been there all along.
Screenplay by Eleanor Catton
Based on the Novel by Jane Austen
Produced by Tim Bevan, Eric Fellner, Graham Broadbent, Pete Czernin
Directed by Autumn de Wilde
Cast: Anya Taylor-Joy, Johnny Flynn, Bill Nighy, Mia Goth, Miranda Hart, Josh O'Connor, Callum Turner, Rupert Graves, Gemma Whelan, Amber Anderson, Tanya Reynolds, Connor Swindells
Rated PG, 122 minutes, Print Courtesy of Focus Features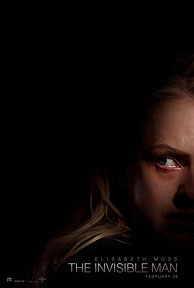 Saturday, February 29
8:00 p.m.
Trapped in a violent, controlling relationship with a wealthy and brilliant scientist, Cecilia Kass (Elizabeth Moss) escapes in the dead of night and disappears into hiding. In this rethinking of the classic H.G. Wells novel, Cecilia's sanity begins to unravel, as she desperately tries to prove that she is being hunted by someone nobody can see.
Screenplay by Leigh Whannell
Screen Story by Leigh Whannell
Based on the Novel by H.G. Wells
Produced by Jason Blum, Kylie du Fresne
Directed by Leigh Whannell
Cast: Elisabeth Moss, Aldis Hodge, Storm Reid, Harriet Dyer, Oliver Jackson-Cohen,
Rated R, minutes, Print Courtesy of Universal Pictures
As a courtesy to your fellow members, please turn off all cell phones, pagers, etc., and refrain from talking during the screenings.
Screenings are held at: Writers Guild Theater, 135 S. Doheny Drive, Beverly Hills 90211
Seating is on a first-come first served basis.
WGAW Membership cards are required to attend The Guild Screenings and must be presented by the WGAW member. Your WGAW membership card allows you to bring TWO guests. If you are not a member of the WGAW, you will not be allowed admittance. For recorded Guild Screenings information, please email Guild Screenings or call (323) 782-4591. Please read our Rules and Regulations before attending the screenings.
Guild Screenings Office: (323) 782-4508 or email Guild Screenings.
PLEASE REMEMBER: OUTSIDE FOOD & DRINKS ARE PROHIBITED IN THE WGA THEATER