The Guild Screenings
November 2019
Welcome to the Guild Screenings! Please feel free to visit your theater early, to schmooze and banter with your fellow scribes.

So many reasons to give thanks this November at your Guild Screenings. Aside from an eclectic slate of big studio movies (DOCTOR SLEEP, TERMINATOR: DARK FATE, LAST CHRISTMAS, FORD v FERRARI) and must-see indies (BURNING CANE, WAVES, THE SONG OF NAMES), we're offering a bounty of special Q&A events.
On November 1st, co-writer Gregory Allen Howard and co-writer/director Kasi Lemmons will join us for a screening and discussion of their new biographical drama, HARRIET, about the life of Harriet Tubman. Friday, November 8th, you won't want to miss THE TWO POPES with writer Anthony McCarten in attendance. On Saturday, November 9th, we're thrilled to welcome writer Steven Zaillian for a screening of THE IRISHMAN. The next day, November 10th, writers Micah Fitzerman-Blue & Noah Harpster will be interviewed after a screening of their Mr. Rogers biopic, A BEAUTIFUL DAY IN THE NEIGHBORHOOD.
The following weekend, on Friday, November 15th, we'll have writer/director Noah Baumbach in after a screening of his eagerly anticipated new film, MARRIAGE STORY. On Saturday, November 16th, we'll screen the Fox News inspired docudrama, BOMBSHELL along with a Q&A with writer Charles Randolph.
But wait, there's still one more weekend before Thanksgiving! On Friday, November 22nd, we welcome writer/director Greta Gerwig to join us in discussing her new adaptation of LITTLE WOMEN. And finally, on Sunday, November 24th, we'll screen the psychological thriller, DARK WATERS, followed by a Q&A with writers Mario Correa and Matthew Michael Carnahan.
As always, members may bring TWO GUESTS to all regular screenings, except where noted. Seating is first come, first serve. We ask that members frequent the food and drink offerings from Homeboy Industries before the film. On weekends, we serve popcorn, beverages, salads, sandwiches, and fresh pastries. Only popcorn and water are allowed inside the theater, and patrons may not bring in outside food. Free parking is available on garage levels 4 and up only. We'll see you at the movies!
CLICK ON MOVIE TITLES TO VIEW TRAILERS
Friday, November 22
7:30
Four sisters come of age in America, in the aftermath of the Civil War.
Q&A with writer/director Greta Gerwig immediately following this screening.
Written for the Screen and Directed by Greta Gerwig
Based on the Novel by Louisa May Alcott
Produced by Amy Pascal, Denise Di Novi, Robin Swicord
Cast: Saoirse Ronan, Emma Watson, Florence Pugh, Eliza Scanlen, Laura Dern, Timothée Chalamet, Tracy Letts, Bob Odenkirk, James Norton, Louis Garrel, Chris Cooper, Meryl Streep
Rated PG, 135 minutes, Print Courtesy of Columbia Pictures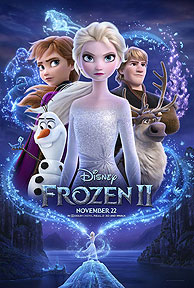 Saturday, November 23
11:00(3D) & 2:00(2D)
Anna, Elsa, Kristoff, Olaf and Sven leave Arendelle to travel to an ancient, autumn-bound forest of an enchanted land. They set out to find the origin of Elsa's powers in order to save their kingdom.
Screenplay by Jennifer Lee
Story by Jennifer Lee, Chris Buck, Mark E. Smith, Kristen Anderson-Lopez, Robert Lopez
Produced by Peter Del Vecho
Directed by Chris Buck, Jennifer Lee
Voice Cast: Kristen Bell, Idina Menzel, Jonathan Groff, Josh Gad
FAMILY MATINEE: Members may bring up to 3 guests (ages 3 and up) to these screenings.
Rated PG, 104 minutes, Print Courtesy of Disney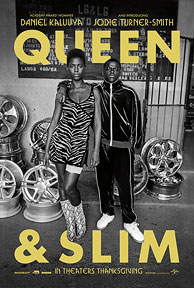 Saturday, November 23
5:00
A couple's first date takes an unexpected turn, when a police officer pulls them over.
Screenplay by Lena Waithe
Story by James Frey and Lena Waithe
Produced by James Frey, Lena Waithe, Melina Matsoukas, Michelle Knudsen, Andrew Coles, Brad Weston, Pamela Abdy
Directed by Melina Matsoukas
Cast: Daniel Kaluuya, Jodie Turner-Smith, Bokeem Woodbine, Chloë Sevigny, Flea, John Sturgill Simpson, Indya Moore
Rated R, 132 minutes, Print Courtesy of Universal Pictures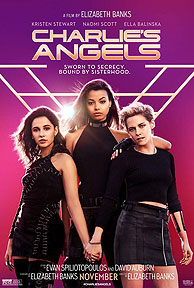 Saturday, November 23
8:30
When a young systems engineer blows the whistle on a dangerous technology, Charlie's Angels are called into action, putting their lives on the line to protect us all.
Screenplay by Elizabeth Banks
Story by Evan Spiliotopoulos and David Auburn
Based on the Television Series Created by Ivan Goff and Ben Roberts
Produced by Doug Belgrad, Elizabeth Cantillon, Max Handelman, Elizabeth Banks
Directed by Elizabeth Banks
Cast: Kristen Stewart, Naomi Scott, Ella Balinska, Elizabeth Banks, Djimon Hounsou, Sam Claflin, Noah Centineo, Patrick Stewart
Rated PG-13, 119 minutes, Print Courtesy of Columbia Pictures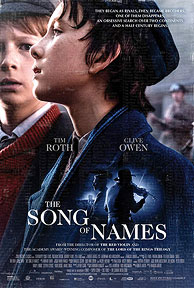 Sunday, November 24
11:00
Tim Roth and Clive Owen star in an emotional detective story spread over a half century, threading the pulse of classical music through the horrors of World War 2.
Screenplay by Jeffrey Caine
Based on a Novel by Norman Lebrecht
Produced by Robert Lantos
Directed by François Girard
Cast: Tim Roth, Clive Owen, Catherine McCormack
Rated PG-13, 113 minutes, Print Courtesy of Sony Pictures Classics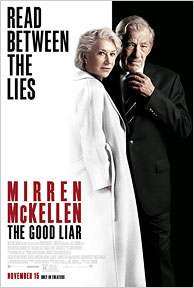 Sunday, November 24
2:00
Career con artist Roy Courtnay can hardly believe his luck when he meets a well-to-do widow online. As she opens her home and life to him, Roy is surprised to find himself caring about her, turning what should be a cut-and-dry swindle into a treacherous tightrope walk.
Screenplay by Jeffrey Hatcher
Based on the Novel by Nicholas Searle
Produced by Greg Yolen, Bill Condon
Directed by Bill Condon
Cast: Helen Mirren, Ian McKellen, Russell Tovey, Jim Carter
Rated R, 109 minutes, Print Courtesy of New Line Cinema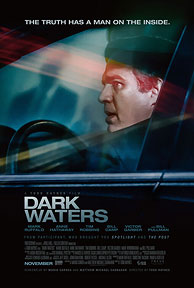 Sunday, November 24
5:00
A corporate defense attorney takes on an environmental lawsuit against a chemical company that exposes a lengthy history of pollution.
Q&A with writers Mario Correa and Matthew Michael Carnahan immediately following this screening.
Screenplay by Mario Correa and Matthew Michael Carnahan
Based on the New York Times Magazine article "The Lawyer Who Became Dupont's Worst Nightmare" Written by Nathaniel Rich
Produced by Mark Ruffalo, Christine Vachon, Pamela Koffler
Directed by Todd Haynes
Cast: Mark Ruffalo, Anne Hathaway, Tim Robbins, Bill Camp, Victor Garber, Mare Winningham, Bill Pullman
Rated PG-13, 126 minutes, Print Courtesy of Focus Features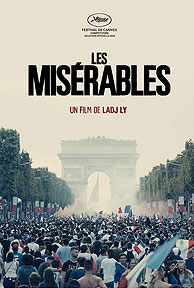 Sunday, November 24
8:30
Stéphane joins the Anti-Crime Brigade of Montfermeil, a dangerous urban district. He meets his new teammates, discovering extreme tensions among groups in the area, in this explosive thriller.
Written by Ladj Ly, Giordano Gederlini and Alexis Manenti
Produced by Toufik Ayadi, Christophe Barral
Directed by Ladj Ly
Cast: Damien Bonnard, Alexis Manenti, Djebril Zonga, Issa Perica, Al Hassan Ly, Steve Tientcheu, Almany Kanoute, Nizar Ben Fatma
This film is in French with English subtitles.
Rated R, 102 minutes, Print Courtesy of Amazon Studios
As a courtesy to your fellow members, please turn off all cell phones, pagers, etc., and refrain from talking during the screenings.
Screenings are held at: Writers Guild Theater, 135 S. Doheny Drive, Beverly Hills 90211
Seating is on a first-come first served basis.
WGAW Membership cards are required to attend The Guild Screenings and must be presented by the WGAW member. Your WGAW membership card allows you to bring TWO guests. If you are not a member of the WGAW, you will not be allowed admittance. For recorded Guild Screenings information, please email Guild Screenings or call (323) 782-4591. Please read our Rules and Regulations before attending the screenings.
Guild Screenings Office: (323) 782-4508 or email Guild Screenings.
PLEASE REMEMBER: OUTSIDE FOOD & DRINKS ARE PROHIBITED IN THE WGA THEATER