The Guild Screenings
January 2020
Welcome to the Guild Screenings! Please feel free to visit your theater early, to schmooze and banter with your fellow scribes.

Happy New Year from the Guild Screenings! We have a very dynamic, international schedule this month. Along with studio titles like BAD BOYS FOR LIFE, SPIES IN DISGUISE, and UNDERWATER, we have an array of exciting foreign titles. THE PAINTED BIRD, CORPUS CHRISTI, HONEYLAND, BEANPOLE, and THOSE WHO REMAINED are all on the Academy's shortlist for Best International Film, and all should be seen! Additionally, we have three other wonderful foreign films, THE CHAMBERMAID, AND THEN WE DANCED, and THE TRAITOR. These are all fabulous examples of passionate, vibrant storytelling.
We are working on adding a parking validation kiosk, but it's not ready for prime time yet. So, please continue with the current parking system.
As always, members may bring TWO GUESTS to all regular screenings, except where noted. Seating is first come, first serve. We ask that members frequent the food and drink offerings from Homeboy Industries before the film. On weekends, we serve popcorn, beverages, salads, sandwiches, and fresh pastries. Only popcorn and water are allowed inside the theater, and patrons may not bring in outside food. Free parking is available on garage levels 4 and up only. We'll see you at the movies!
CLICK ON MOVIE TITLES TO VIEW TRAILERS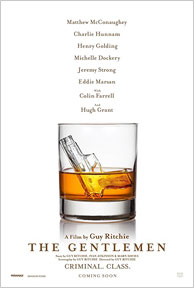 Monday, January 20
8:00 p.m.
A British drug lord tries to sell off his empire, triggering an array of plots and schemes from those who desire his fortune.
Screenplay by Guy Ritchie
Story by Guy Ritchie, Ivan Atkinson & Marn Davies
Produced by Guy Ritchie, Ivan Atkinson, Bill Block
Directed by Guy Ritchie
Featuring: Matthew McConaughey, Charlie Hunnam, Henry Golding, Michelle Dockery, Jeremy Strong, Eddie Marsan, Colin Farrell, Hugh Grant
Rated R, 113 minutes, Print Courtesy of STX Films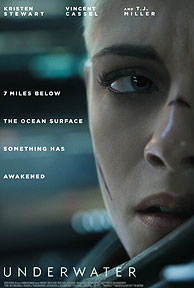 Friday, January 24
8:00 p.m.
In this sci-fi thriller, a crew of aquatic researchers must get to safety after an earthquake devastates their subterranean laboratory. Unfortunately, the crew has more than the ocean seabed to fear.
Screenplay by Brian Duffield and Adam Cozad
Story by Brian Duffield
Produced by Peter Chernin, Tonia Davis, Jenno Topping, Tonia Davis
Directed by William Eubank
Featuring: Kristen Stewart, Vincent Cassel, Jessica Henwick, John Gallagher, Jr., Mamoudou Athil and T.J. Miller
Rated R, 113 minutes, Print Courtesy of Twentieth Century Fox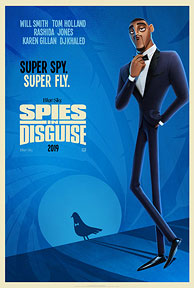 Saturday, January 25
11:00 a.m.
When the world's best spy is accidentally turned into a pigeon, he must rely on his nerdy tech officer to battle a madman and save the world.
Screenplay by Brad Copeland and Lloyd Taylor
Screen Story by Cindy Davis
Inspired by the Animated Short Film PIGEON: IMPOSSIBLE by Lucas Martell
Produced by Peter Chernin, Jenno Topping, Michael J. Travers
Directed by Troy Quane, Nick Bruno
Voice Cast: Will Smith, Tom Holland, Rashida Jones, Ben Mendelsohn, Reba McEntire, Rachel Brosnahan, Karen Gillan, DJ Khaled, Masi Oka
FAMILY MATINEE: Members may bring up to 3 guests (ages 3 and up) to this screening.
Rated PG, 101 minutes, Print Courtesy of 20th Century Fox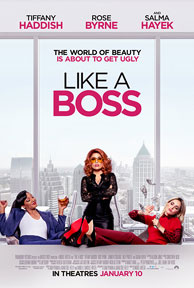 Saturday, January 25
2:00 p.m.
Two female friends with very different ideals decide to start a cosmetics company. But they get in over their heads, and the business gets ugly and tests their lifelong friendship.
Screenplay by Sam Pitman & Adam Cole-Kelly
Story by Sam Pitman & Adam Cole-Kelly and Danielle Sanchez-Witzel
Produced by Marc Evans, Peter Principato, Joel Zadak, Itay Reiss
Directed by Miguel Arteta
Featuring: Tiffany Haddish, Rose Byrne, Salma Hayek
Rated R, 83 minutes, Print Courtesy of Paramount Pictures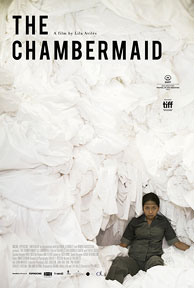 Saturday, January 25
5:00 p.m.
In this quiet, compassionate drama, a young chambermaid in one of Mexico City's most luxurious hotels confronts the monotony of long workdays, with moments that trigger her dream for a better life.
Written by Lila Avilés & Juan Carlos Marquéz
Produced by Lila Avilés, Tatiana Graullera, Axel Shalson, Jana Diaz-Juhl, Pau Brunet
Directed by Lila Avilés
Featuring: Gabriela Cartol, Teresa Sánchez
This film is in Spanish with English subtitles.
Not Rated, 102 minutes, Print Courtesy of Kino Lorber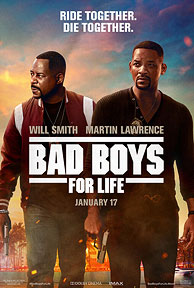 Saturday, January 25
8:00 p.m.
Marcus Burnett is now a police inspector and Mike Lowery is in a midlife crisis. They reunite when an Albanian mercenary, whose brother they killed, promises them an important bonus.
Screenplay by Chris Bremner and Peter Craig and Joe Carnahan
Story by Peter Craig and Joe Carnahan
Based on Characters Created by George Gallo
Produced by Jerry Bruckheimer, Will Smith, Doug Belgrad
Directed by Adil El Arbi & Bilall Fallah
Featuring: Will Smith, Martin Lawrence, Vanessa Hudgens, Alexander Ludwig, Charles Melton, Paola Nunez, Kate Del Castillo, Nicky Jam, and Joe Pantoliano
Not Yet Rated, 113 minutes, Print Courtesy of Columbia Pictures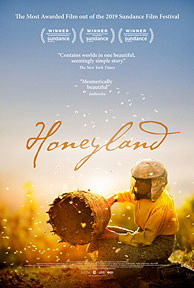 Sunday, January 26
11:00 a.m.
The last female bee-hunter in Europe must save the bees and return the natural balance, when a family of nomadic beekeepers invades and threatens her livelihood. A beautiful, heartbreaking story about community. Grand Jury Prize winner at Sundance.
Produced by Atanas Georgiev, Ljubo Stefanov
Directed by Ljubo Stefanov, Tamara Kotevska
Featuring: Hatidze Muratova, Nazife Muratova, Hussein Sam, Ljutvie Sam
This documentary feature is in Turkish with English subtitles.
Not Rated, 90 minutes, Print Courtesy of Neon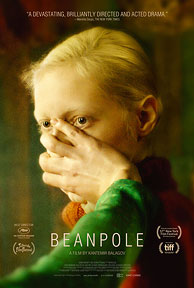 Sunday, January 26
2:00 p.m.
1945. World War II has devastated Leningrad, demolishing its buildings and leaving its citizens in tatters, physically and mentally. Among the ruins, two young women search for hope and meaning in the struggle to rebuild their lives. Winner at Cannes, Un Certain Regard - Best Director.
Written by Kantemir Balagov, Alexander Terekhov
Produced by Alexander Rodnyansky, Sergey Melkumov
Directed by Kantemir Balagov
Featuring: Viktoria Miroshnichenko, Vasilisa Perelygina, Andrey Bykov, Igor Shirokov, Konstantin Balakirev, Ksenia Kutepova, Olga Dragunova, Timofey Glazkov
This film is in Russian with English subtitles.
Not Rated, 137 minutes, Print Courtesy of Kino Lorber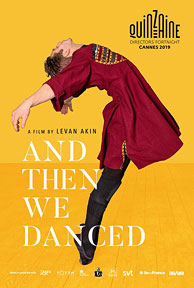 Sunday, January 26
5:00 p.m.
Merab has been training since he was a boy at the National Georgian Ensemble. His world turns upside down when the carefree Irakli arrives and becomes both his strongest rival and his desire. A tender, warm tale about the challenges of being gay in an environment that isn't ready for it.
Written and Directed by Levan Akin
Produced by Mathilde Dedye, Ketie Danelia
Featuring: Levan Gelbakhiani, Bachi Valishvili, Ana Javakishvili
This film is in Georgian with English subtitles.
Not Rated, 113 minutes, Print Courtesy of Music Box Films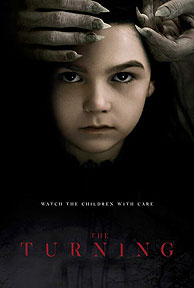 Sunday, January 26
8:00 p.m.
A young governess is hired by a man who is now responsible for his young nephew and niece after the deaths of their parents. A modern take on Henry James' horror novella "The Turn of the Screw".
Screenplay by Chad Hayes & Carey W. Hayes
Based on the Novel The Turn of the Screw by Henry James
Produced by Scott Bernstein, Roy Lee
Directed by Floria Sigismondi
Featuring: Mackenzie Davis, Finn Wolfhard, Brooklynn Prince, Joely Richardson
Rated PG-13, 94 minutes, Print Courtesy of DreamWorks and Universal Pictures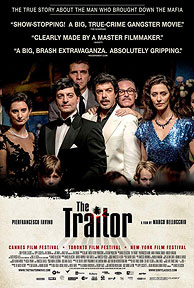 Monday, January 27
7:30 p.m.
An epic, operatic biopic about Tommaso Buscetta, the first mafia informant, who in the 1980's brought down the Cosa Nostra.
Screenplay by Marco Bellocchio, Ludovica Rampoldi, Valia Santella, Francesco Piccolo
Produced by Beppe Caschetto, Viola Fügen, Simone Gattoni, Caio Gullane, Fabiano Gullane, Alexandra Henochsberg, Michael Weber
Directed by Marco Bellocchio
Cast: Pierfrancesco Favino, Maria Fernanda Cândido, Fabrizio Ferracane, Fausto Rosso Alesi, Luigi Lo Cascio, Nicola Calì
This film is in Italian with English subtitles.
Rated R, 150 minutes, Print Courtesy of Sony Pictures Classics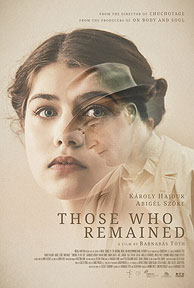 Friday, January 31
8:00 p.m.
In post-World War II Hungary, two Holocaust survivors -- a solitary man and a young girl -- struggle to move on from their loss and trauma. A lyrical story about the healing power of love.
Screenplay by Barnabás Tóth, Klára Muhi
Based on a Novel by Zsuzsa F. Várkonyi
Produced by Mónika Mécs
Directed by Barnabás Tóth
Featuring: Károly Hajduk, Abigél Szőke, Mari Nagy, Katalin Simkó, Barnabás Horkay
This film is in Hungarian with English subtitles.
Not Rated, 83 minutes, Print Courtesy of Menemsha Films
As a courtesy to your fellow members, please turn off all cell phones, pagers, etc., and refrain from talking during the screenings.
Screenings are held at: Writers Guild Theater, 135 S. Doheny Drive, Beverly Hills 90211
Seating is on a first-come first served basis.
WGAW Membership cards are required to attend The Guild Screenings and must be presented by the WGAW member. Your WGAW membership card allows you to bring TWO guests. If you are not a member of the WGAW, you will not be allowed admittance. For recorded Guild Screenings information, please email Guild Screenings or call (323) 782-4591. Please read our Rules and Regulations before attending the screenings.
Guild Screenings Office: (323) 782-4508 or email Guild Screenings.
PLEASE REMEMBER: OUTSIDE FOOD & DRINKS ARE PROHIBITED IN THE WGA THEATER