The Guild Screenings
May 2018
Greetings from the Guild Screenings! Remember: Parking is now FREE at our Theater on garage levels 4 and up. Enter/Exit at alley gate only.

May brings forth a bounty of early summer blockbusters (AVENGERS: INFINITY WAR, SOLO: A STAR WARS STORY, DEADPOOL 2) and an eclectic array of indies and documentaries, including the potboiler DARK CRIMES, the romantic ON CHESIL BEACH, and the fun, twisted debuts TERMINAL and REVENGE.
We're also excited to feature four very exciting Q&A events. On Friday, May 4, we welcome co-writer/star Alia Shawkat and her co-writer/director partner, Miguel Arteta, following their buzzed about new indie DUCK BUTTER. Saturday, May 5 at 5pm, co-writers Christopher Markus and Stephen McFeely will be on hand to discuss their new film, AVENGERS: INFINITY WAR. On Friday, May 18, you won't want to miss our Q&A with screenwriter/star Penn Jillette following a screening of his whacked-out, meta cult comedy DIRECTOR'S CUT. Finally, the Guild Screenings is thrilled to welcome co-writers Lawrence Kasdan & Jonathan Kasdan, following the 5pm showing of SOLO: A STAR WARS STORY.
As always, members may bring TWO GUESTS to all regular screenings, except where noted. Seating is first come, first serve. We ask that members frequent the food and drink offerings from Homeboy Industries before the film. On weekends, we serve popcorn, beverages, salads, sandwiches, and fresh pastries. Only popcorn and water are allowed inside the theater, and patrons may not bring in outside food. We'll see you at the movies!
CLICK ON MOVIE TITLES TO VIEW TRAILERS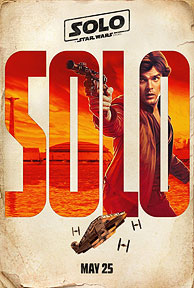 Saturday, May 26
10:30(3D) & 5:00(2D)
During an adventure into a dark criminal underworld, Han Solo meets his future copilot Chewbacca and encounters Lando Calrissian years before joining the Rebellion.
Q&A with Jonathan Kasdan & Lawrence Kasdan following the 5pm screening.
Written by Jonathan Kasdan & Lawrence Kasdan
Based on Characters Created by George Lucas
Produced by Kathleen Kennedy, Allison Shearmur, Simon Emanuel
Directed by Ron Howard
Cast: Alden Ehrenreich, Woody Harrelson, Emilia Clarke, Donald Glover, Thandie Newton, Phoebe Waller-Bridge, Joonas Suotamo, Paul Bettany
**5pm screening is limited to Members +1 guest only.**
Rated PG-13, 135 minutes, Print Courtesy of LucasFilm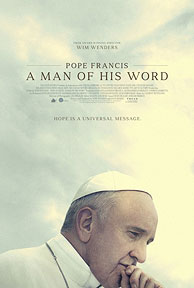 Saturday, May 26
2:00
This film is intended to be a personal journey with Pope Francis, rather than a biographical documentary about him. The pope's ideas and his message are central to this film, which sets out to present his work of reform as well as his answers to today's pressing global questions. From director Wim Wenders.
Written and Produced by Wim Wenders and David Rosier
Produced by Samanta Gandolfi Branca, Alessandro Lo Monaco, Andrea Gambetta
Directed by Wim Wenders
Featuring: Pope Francis
This feature is a Documentary.
Not Rated, 96 minutes, Print Courtesy of Focus Features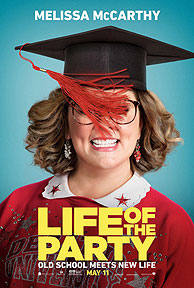 Saturday, May 26
9:00
After her husband abruptly asks for a divorce, a middle-aged mother (Melissa McCarthy) returns to college in order to complete her degree.
Written by Melissa McCarthy & Ben Falcone
Produced by Melissa McCarthy, Ben Falcone, Chris Henchy
Directed by Ben Falcone
Cast: Melissa McCarthy, Gillian Jacobs, Maya Rudolph, Julie Bowen, Matt Walsh, Molly Gordon, Stephen Root, Jacki Weaver
Rated PG-13, 105 minutes, Print Courtesy of New Line Cinema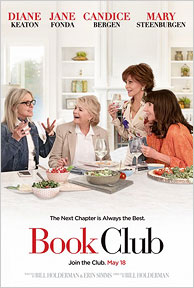 Sunday, May 27
11:00 & 5:00
Four lifelong friends (Diane Keaton, Jane Fonda, Candice Bergen and Mary Steenburgen) have their lives forever changed after reading 50 Shades of Grey in their monthly book club.
Written by Bill Holderman & Erin Simms
Produced by Andrew Duncan, Alex Saks, Bill Holderman, Erin Simms
Directed by Bill Holderman
Cast: Diane Keaton, Jane Fonda, Candice Bergen, Mary Steenburgen, Craig T. Nelson, Andy Garcia, Don Johnson
Rated PG-13, 97 minutes, Print Courtesy of Paramount Pictures
Sunday, May 27
2:00
After her mother's death, six-year-old Frida is sent to her uncle's family to live with them in the countryside. But Frida finds it hard to forget her mother and adapt to her new life. Winner of the Best First Feature award at the 67th Berlin International Film Festival.
Written and Directed by Carla Simón
Produced by Valérie Delpierre
Cast: Laia Artigas, Paula Robles, Bruna Cusí, David Verdaguer, Fermi Reixacha
This film is in Catalan with English subtitles.
Not Rated, 97 minutes, Print Courtesy of Oscilloscope Laboratories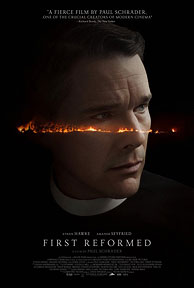 Sunday, May 27
8:00
Ethan Hawke plays the pastor of a small church in upstate New York, wracked by grief over the death of his son, who starts to spiral out of control after a soul-shaking encounter with an unstable environmental activist and his pregnant wife. The latest from writer/director Paul Schrader.
Written and Directed by Paul Schrader
Produced by Christine Vachon, David Hinojosa, Frank Murray
Cast: Ethan Hawke, Amanda Seyfried, Cedric Kyles
Rated R, 108 minutes, Print Courtesy of A24
As a courtesy to your fellow members, please turn off all cell phones, pagers, etc., and refrain from talking during the screenings.
Screenings are held at: Writers Guild Theater, 135 S. Doheny Drive, Beverly Hills 90211
Seating is on a first-come first served basis.
WGAW Membership cards are required to attend The Guild Screenings and must be presented by the WGAW member. Your WGAW membership card allows you to bring TWO guests. If you are not a member of the WGAW, you will not be allowed admittance. For recorded Guild Screenings information, please email Guild Screenings or call (323) 782-4591. Please read our Rules and Regulations before attending the screenings.
Guild Screenings Office: (323) 782-4508 or email Guild Screenings.
PLEASE REMEMBER: OUTSIDE FOOD & DRINKS ARE PROHIBITED IN THE WGA THEATER