Enforcement
Get Paid on Time: How to Help Prevent Late Pay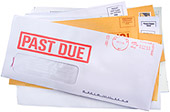 The MBA requires timely payment. When payment is late, it is a violation of the MBA and should be reported to the Guild for enforcement. If all MBA-covered writers reported their late payment issues, not only could the Guild seek payment with interest on behalf of the individual writers, the aggregate information of these complaints can be used to identify a pattern of practice among employers that repeatedly pay their writers late. This information can prove invaluable to Guild staff for enforcement as well at the bargaining table when negotiating our next contract.
HOW AGENTS CAN HELP PREVENT LATE PAY
The WGAW and its franchised agents are working together to address the chronic problem of late payment. The joint project will focus on delivery of literary material by screenwriters. With agents providing the Guild with timely information regarding when their clients deliver literary material for features, the Guild can more systematically track script deliveries and payments in the ongoing effort to ensure writers are paid on time. Full and consistent participation by WGAW franchised agents is essential to the project's success.
IF YOU ARE AN AGENT
Fill out this simple form to let us know the date your client delivered their theatrical treatment, screenplay, rewrite or polish.
HOW WRITERS CAN HELP PREVENT LATE PAY
IF YOU ARE A WRITER
Visit the Late Pay Desk to contact the Guild about a late payment and learn more about the steps to getting paid on time.