Let There Be Light
The Writers Workbench reviews a powerful new product that's two devices in one.
September 9, 2019
By Robert J. Elisberg
Back in January at the Consumer Electronics Show, I came across the prototype of a product that immediately caught my eye as something that seemed it could be special. In part, that it was because it fell into the category of portable charger which I've made abundantly clear over the years is (for inexplicable reasons) one of my favorite type of product. In part it was because my interest in this device was because it was actually more than just a charger. In part, it was because it came from myCharge which has long been one of the better portable charger companies I've come across. And in part, it was because from the very brief demo, it looked extremely good.
Unfortunately, being a prototype, the device wasn't available yet for the market or review. Over the next months, I kept checking for its release, but things got pushed back. Well, at last, huzzah! The long wait is over, and the product has hit the market. And finally we get to dive in and take a look.
myCHARGE ADVENTURE POWER LUMENS 10K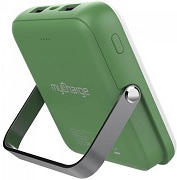 The Power Lumens 10K falls under the "Adventure" line of myCharge products. At heart (and bear with me, because the device transcends this), it is a portable charger. Small and reasonably light but packing a lot of power—10,000 mAh will charge an Android mobile phone about six times and give maybe five 5 charges to an iPhone. (Know that myCharge has plans to release a 20K version, but there is no date yet for it). The device is square-shaped only a touch over 3.5" x 3.5" (which can fit into pants pocket) and weighs just eight ounces. There are two, standard USB-A slots at 2.4 amps, so you can charge a tablet or two smaller devices at the same time. There's no built-in cable, though as much as I prefer them I didn't expect it to be the case here, and many chargers today are getting away from that.
That's what it is as a charger. Nice, a lot of power, small, light, an uncommon square form factor, nothing overwhelmingly standout as a charger, though quite good. But—
But.
What separates the Power Lumens 10K from almost all other chargers and what caught my eye back at CES is referenced by that word in the product's name—"Lumens." Because the device is also a lamp—and not just a lamp, but a stunningly bright one with four settings, plus an SOS capability and incredibly long-life, which is of tremendous value during a power failure. In fact, I'd say that the lighting capability is so strong that, rather than being a perfectly respectable, solid, normal charger first, I see this more as a lamp that also can serve as a charger.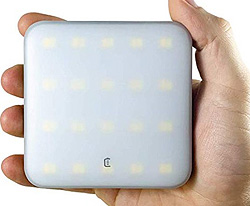 There are four light settings. The highest is just phenomenally, shield-your-eyes bright. Brighter than you probably will ever need, but if you want to brighten a room and have a flood light for tailgating at night, this will do it. In fact, the lowest setting is bright enough on its own that it should suffice for most people, most of the time—and it gives you the most-significant running time, which is critical if you're on a camping trip. (I was going to also say, "…during a blackout," except that even at the highest setting it's rated to run for nine full hours, which is longer than most blackouts.)
At the highest setting, the Lumen 10K should run, as I said, for nine hours. At level two (still seriously bright), it's rated to run for 15 hours. Level three (extremely bright) is rated to run for 22 hours. And as noted, the lowest setting, which is level four—and quite bright, like a strong home flashlight, not night-lite dim)—it is rated to run for a remarkable 41 hours!!
Further, if you don't like the harshness of bright white light, a long-hold of the power button when the light is on will toggle the device to soft yellow.
And a long-hold of the power button when the device is off will turn on a flashing SOS light.
Very nice, too, is that there is a metal kickstand that folds away when not in use, but can be slid out to conveniently set up the device.
As good as it is to have the option of four brightness levels, I'm not sure if they're necessary. I didn't find there to be that significant a difference between each level (and especially for the middle two), and myCharge probably could have gotten by with two levels. It's certainly not at all a negative to have more options, though it does mean more toggling through the levels to get from the top level to the lowest and not always being sure what level you're on without going through the full cycle.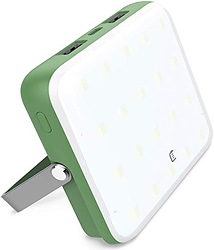 As I said, I like built-in cables, but I didn't expect that here, and not having one built in it does give you a bit more versatility in the choice of what cable you want to use. The device comes with a small, thin micro-USB cable for charging the device, though I prefer one of the longer, more substantial ones I have around the house, as do most people, I suspect, which gives a bit more flexibility on where to place the device when charging it.
When you press the power button, a row of four lights shine to let you know how much power is left. It took about a second to go on, which of course is not remotely a problem, though most such-lights go on instantly, so at first I thought the power lights weren't working.
As far as I can tell, the Power Lumens 10K is not officially a "Fast Charger," though its rating makes it very fast, and fast enough for most people other than the Terminally Impatient.
Like all myCharge products I've tested over the years, the device is extremely well-made. Very solid, particularly the kickstand, and it has a very simple, almost graceful design.
I don't think that I'd pick the Power Lumens 10K to be my go-to pocket charger for my mobile phone. It has more power than needed, and the square, thickish form factor (though it slips easily into a pocket) isn't the best for charging and using a phone at the same time. But I doubt that this is it's intent, falling under the "Adventure" umbrella for myCharge. Where it's best-suited is for back-up lighting and power during a blackout, camping (thanks not only to its lamp but light-size), backyard and tailgating use. And I wouldn't hesitate to toss it into a suitcase for travel backup.
At the time of writing, the Power Lumens 10K can be found online for $60. That's more than you can pay for a good, basic portable charger for a mobile phone—but this is not that. This is so versatile in many other ways that have their own importance, and does it all wonderfully, for a respectable price. Again, to repeat, myCharge has plans to release a 20K version, but there is not yet a date for it.
The myCharge Adventure Power Lumens 10K happily lived up to my expectations from when I saw the prototype. What it is, it does superbly—the brightness of the light and up to 41 hours of power make this valuable enough alone to me without even the charging capability. Put the two together, and it's a terrific device.
A few months back, I wrote here about how Samsung had to withdraw it new "Fold" phone (with a foldable screen) because of an issue that reviewers had discovered. The updated phone has been released at the IFA tech show with three main issues resolved (all related to protecting the screen). It's too early however to know if the phone is in full working order, though clearly Samsung thinks so since it has been released in Europe with a $2,200 price tag. There is no release date yet for the United States.
Speaking of phones, let's jump into the Wayback Machine. Nokia is about to release their Model 2720 Flip—yes, a flip phone. It's small when closed, with a 2.8" inside screen, and will be able to run modern apps (including Google Assistant). The price tag is only $98. (Fun Fact: For the record, despite the spelling of its name, Nokia is a Finnish company, not Japanese. It's pronounced NOAK-ee-uh, not No-KEEE-uh. Amaze and astound your friends with this information…)
If you think your Twitter account is safe, consider that the account of Jack Dorsey, the founder of Twitter, was recently hacked. One of the best protections to use is something called Two-Factor Authorization (2FA)—basically, this sends a code to your physical mobile phone whenever you log in and you have to either approve it or manually enter the code. On Twitter.com online, go to Settings and Privacy/ Accounts / Login and Security / Security—and then select Two Factor Authorization. One option is to use "Text message," but the safer route (text messaging MAY have possibly been related to the hack) is to have a third-party app, like the well-regarded Microsoft Authenticator on your phone, and select that option on the Twitter page.
The trade group representing tech companies, CTA, has said that tariffs in the trade wars have cost consumers $10 billion thus far in the tech field—and that there will be a bigger jump starting Sept. 1 when a 15% tariff will be added to tech products. They don't expect price increases immediately, but do think they'll come into play later in November before holiday buying kicks in. Earlier tech tariffs were mostly on parts, these new tariffs are mostly for finished goods.
To read more from Robert J. Elisberg about other matters from politics, entertainment, technology, humor, sports, and a few things in between, see Elisberg Industries. He can also be followed at a distance on Twitter or Facebook.
Note: The Writers Guild of America West neither implicitly nor explicitly endorses opinions or attitudes expressed in this article.
Copyright 2019, Robert J. Elisberg. All rights reserved.