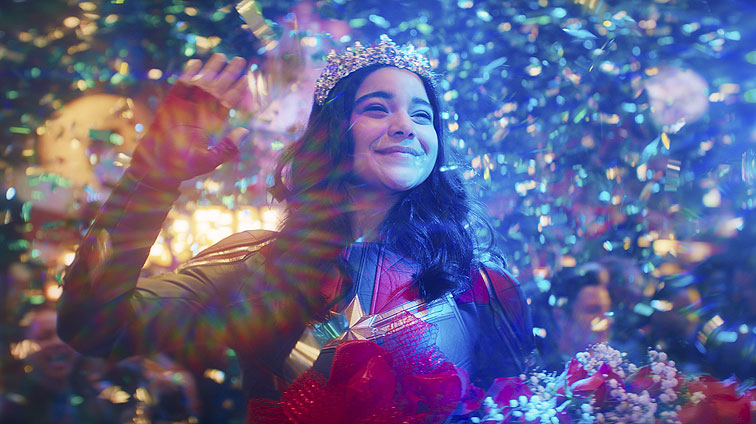 Ms. Marvel creator Bisha K. Ali on what's important to know when pitching for the MCU and why she turned her critically raved Disney+ show about Marvel's first Muslim superhero into a meditation on Pakistani history.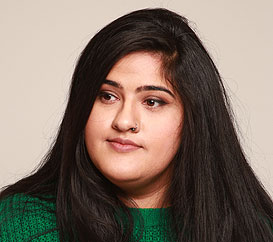 I have a collaborative way of working, and you have to be able to do that while also having your own vision in a place like Marvel. You have to roll with the punches and really enjoy that part of the process, really be part of this kind of stew, and figure it out together.
Bisha K. Ali made a decision in 2019 that would have been tough for most writers. She had spent 20 weeks as executive story editor on Loki, the Disney+ sci-fi adventure series, created for television by Michael Waldron. When Marvel Studios decided to extend the room for 10 weeks, Ali, who would land two 2022 Writers Guild Award shared nominations for Drama Series and New Series for Loki, turned the offer down.
It wasn't a difficult choice, she says. She simply wanted focus on pitching herself to write the pilot for a mini-series version of the Hugo Award-winning Ms. Marvel, the comic book that debuted Pakistani American teen Kamala Khan as the first Muslim superhero.
The British Pakistani Ali's plan worked. She went on to head the Ms. Marvel writers' room, recreating the story of Kamala's genetically gifted supernatural powers. The show debuted this June, its coming-of-age story, and saga of four generations of mothers and daughters, dazzling critics with its wit, vibrant color, Pakistani music, and special effects.
Then the series took a stunning turn by tackling the horrors of Partition, the 1947 post-British rule of India measure that created Pakistan as a largely Muslim state, separate from Hindu India. Partition led to sectarian violence, death, and displacement, its wounds still felt today yet little discussed. Quite a task for a YA superhero show, and a theme barely touched on in the comic books, but one the writers' room wanted to tackle from the start.
As a strictly supervised London teen, growing up on Star Trek, The X-Files, Bollywood, and Verhoeven movies, Ali kept writing the short stories she had been producing since elementary school. Later, stand-up comedy—not one-liners, but stories with punchlines, she says—led to her providing material for podcasts and an episode of the BAFTA-winning comedy-drama, Sex Education. A staff writer position on Mindy Kaling and Matt Warburton's TV adaptation of Four Weddings and a Funeral followed, as did a consulting producer stint on The Baby (created by Lucy Gaymer and Sian Robins-Grace).
"I walked up to Mindy and said, 'Hey, I've come all the way from England. If I didn't ask for an episode on my first job, then I'd shoot myself in the foot,'" Ali remembers, about Four Weddings. "She was like, 'Yep, I hear you.' And I ended up with an episode, co-writing with Charlie Grandy."
In a recent conversation with the Writers Guild of America West website, Ali discussed what's important to know when pitching to Marvel, what was important to her when staffing the Ms. Marvel writers' room, and the myths around diversity and inclusion that make her angry.
Did it take guts to turn down a Loki extension?
It's hard to get work as a writer, so I don't want to say flippantly, "Oh, whatever, I don't care about 10 more weeks of work." That's not the case. [But] I've been broke for so long that I don't mind being broke again, so money's never a motivating factor for me after a certain baseline level. I'm lucky to be able to say that, at this point, it's about what makes me feel really on fire.
How did you pitch yourself to Marvel?
I know how this company's working from the inside, having just watched it all through Loki. It really is a collaboration between what Marvel Studios wants to do, what exists in the comic books, and what the creator they're bringing on wants to bring to it. That means that a direct one-to-one translation isn't necessarily going to fit in exactly. But the important things that I made really clear to them was that I have a clear sense of this character, who she is and what drives her, and a clear sense of her relationship with the people around her and the environment she's in, and a real clear sense of scale and scope and how that would fit into what the Marvel Cinematic Universe is.
What else?
I just talk a lot, really. I have a collaborative way of working, and you have to be able to do that while also having your own vision in a place like Marvel. You have to roll with the punches and really enjoy that part of the process, really be part of this kind of stew, and figure it out together. They know I've submitted an outline and been told, "Do the opposite; come back." And I've done the opposite, on episodes of Loki. So they know what it is to work with me, and that I'll keep striving for meeting their needs, but also meeting my own vision.
What about Kamala's character did you present to Marvel?
Those comics have been a part of my life since 2014, so it was really clear to me that at the heart of her is this really joyful optimism. Any time she enters into difficulty, she is always approaching from a place of compassion. There's a real sense also of accountability, where if she does something wrong, or if there's a mistake, one of the hindrances internally for her is always, "I need to figure out how to express this and hold myself accountable." And sometimes that will butt up against the stakes of a moment. That's something interesting about her character that I don't know that we have with many of the other superheroes. Also, she's a second-generation immigrant into the US, and her family are all from Pakistan, much like mine. So there are these cultural attachments, and elements of her background, that are deeply personal to me. Finding a way to express those in tandem with the specifics of her character, and also the specifics of her character as a superhero, was kind of the magic.
Tell us about the Ms. Marvel room.
One of the most important things was having representation in the writers' room of people who have shared experience with this character and also have craft. There's kind of a myth that gets perpetuated around diversity inclusion that maybe we're hired for our race, or we're hired for how we meet these standards of inclusion, and not for our craft. And that's absolutely rubbish. I won't use my French.
Please do.
That's complete bullshit, and it really actually makes me very angry. And so, for me, it's about that combination of craft and bringing specific experience. And that's what we really got in quite a few of the writers in the writers' room, and writers who then also could talk about the American experience, because that's something that I don't have.
You were writing in 2019. Not a comfortable time.
We rarely get to have each other in the same writers' room anyway. And the fact that we-re sitting here with a number of other either first or second-generation immigrants, specifically Muslims in this room, writing a story about a Muslim teenage girl, that meant something. Yes, it's under this kind of umbrella of pop culture. It's the most mainstream thing that you could do, right? It's a Marvel show. But we are deeply attuned, personally, to what we are doing at that moment of time.
There's been disheartening racist and misogynist backlash.
As a viewer, when I hear something about a Muslim character, or I hear something about a Pakistani character, I'm already bracing for the impact of, how am I going to be insulted today? How am I going to be told that I'm different? How am I going to be told that I'm the worst possible person? Kind of the flip side to being disheartened or not disheartened, is I can feel this relief in a lot of people of, "Oh no, you have portrayed us with love, and compassion, and celebration."
In episode five, Kamala time travels back to the chaos and misery of Partition. It feels seamless, but also surprising in its historic scope within a Marvel show.
What a journey. Fatimah Asghar, a poet, filmmaker, and director, wrote episode five. We had the six episodes broken out on this kind of massive slew of index cards taking up one of the walls. And Fatimah kind of just relaxed in her chair. She's like, "Wow, we're really going to put this girl through it, huh?" And I was like, "Yes, yes we are." And people are surprised by the direction that we took. The thing we're looking at is intergenerational trauma, and how Kamala ends up being the one who heals this for these three lines of women. It was also very important to us historically that we weren't sending her into Partition to stop any of the wider violence.
How difficult is it to combine action and special effects within drama?
In the case of Ms. Marvel, there isn't as much massive world building compared to, say, something like Loki, VFX-wise. But certainly, there's tons. One thing was developing what her powers would look like. And that started very early. How do they work functionally? Are they attached to her? Is this an infinite resource, or is it a finite resource? And then us taking that to the wider team and them refining it in terms of Marvel. It starts on the page. They're not in our hair in advance. We built this in a closed conference room with no windows, over a month.
Episode five resembles a Pakistani movie. The train station scenes of people trying to escape are powerful.
The scale had to reflect the moment we were witnessing. The director, Sharmeen Obaid-Chinoy, worked on episodes four and five. For her lifetime she's been collecting oral histories of Partition. On that train platform, a lot of it is from real photographs that she's recreated and put into the sequence. We're not doing our version of it. We're trying to be as true to that as possible. And the only thing that we are changing is our character's story inside of it. The kind of conversations that Kamala hears as she walks up that train platform at the end of episode four are from oral histories that Sharmeen has collected. And also Fatimah has dedicated her life to reading and writing about Partition and how it impacts us.
You brought in gorgeous Pakistani film stars to appear as Kamala's great-grandparents.
Me and Fatimah are massive romantics, and we knew that in this sequence, we're going away from the story of Kamala Khan for a moment. You don't see her on screen until she meets up with her great-grandparents at near the breaking point of their love story. It was incumbent upon us to make this as entertaining and as moving as possible, as quickly as possible. Having Mehwish Hayat and Fawad Khan play those two. I mean, what a master stroke. You see them on screen and immediately you're in love with them. And the way that Fatimah constructed that sequence: we were talking about rose gardens and about how, visiting my family in Pakistan, the very specific roses we have there. Fatimah also brought up that strong sense memory. So we had Fawad growing these beautiful roses. Our sentiment about this place that some of us are from is in the fabric of what you're seeing on screen.
You must be proud to have brought Partition to viewers.
What really has moved me, and has moved a lot of the writers, too, is young people from a South Asian background saying, "I never really asked what happened to my family." Now those conversations are happening in living rooms because of a Marvel show.
Any advice for young writers?
This is very personal, so I don't know if it universally will apply, but I'll say it anyway. Especially if you're somewhere like Marvel, unless it's explicitly told to you that you have certain limitations, then write to the highest of your ambition, and let's refine it afterwards. This is just what I've been learning over the past few years, about being a bit more fearless in my writing and saying, "We'll figure it out." Of course, we have to figure out how I'll make it in production; we have to write to budgets; we've got to be sensible. But certainly, in that excitement and thrill of writing a first draft, be more fearless. Unless it's your showrunner, then definitely write what they want! But at the same time, you've been hired to bring yourself to this, so don't leave parts of yourself off the table. Bring all of yourself.
© 2022 Writers Guild of America West