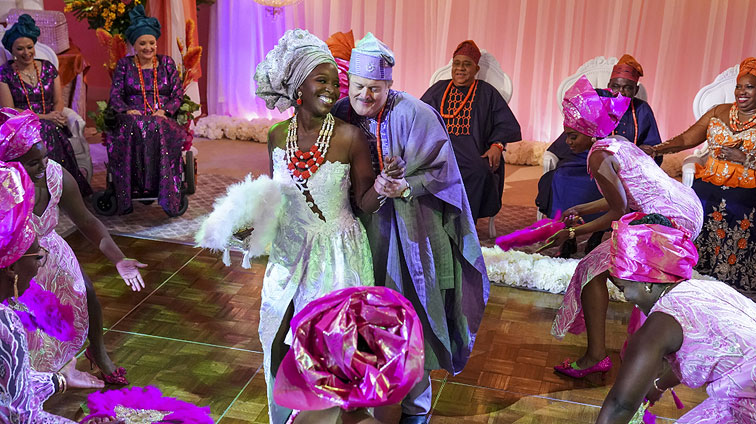 Gina Yashere grew up in a London council flat dreaming of America. Now the co-creator and executive producer of Bob Hearts Abishola is using humor and humanity to teach America about her roots.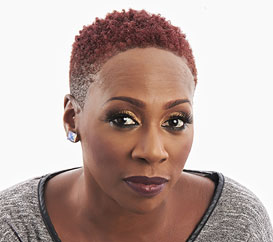 We've covered xenophobia, racism…homophobia. But we're covering it with humor. This is CBS. The majority of our audience is old, white people, and we're teaching them without them even knowing.
Before British comedian Gina Yashere got the call from sitcom czar Chuck Lorre, she spent a year flaming out in Hollywood.
"I had all these pitch meetings that went really well. Meetings with Netflix, TBS, Hulu. Everybody," says Yashere, who wanted to create a show about her Nigerian family. Then everything fell apart. "'We loved you in the room, but we're going to go in a different direction.' Nobody wanted it. I had doors shut in my face."
So when her agent told her that Lorre would like her to meet him and his frequent collaborators Alan J. Higgins and Eddie Gorodetsky, a skeptical Yashere flew back west from New York, where she then lived.
It was 2018 and the height of Trump era bigotry. Lorre envisioned a sitcom with his Mike & Molly star, Billy Gardell, playing a heart attack victim who falls for his Nigerian nurse. The idea was to present hard-working immigrant families in a positive light, and he wanted Yashere to consult.
She remembers being nice at the meeting. But afterwards she called her agent: "I was like, 'I don't know about this. I'm going to say, no. It just feels weird.'"
Still, she took a second meeting: "I ended up staying for three weeks, helping them write the pilot. Making my underwear last, washing them every day in the hotel sink."
Suddenly, with Lorre, Higgins, and Gorodetsky, she was co-creator of a CBS television series. And once in the Bob Hearts Abishola room, she wrote herself in as Kemi, the side-splittingly funny best friend of cardiac nurse Abishola (Folake Oloyofoleku). An occasional guest, Kemi quickly became a regular on the show about Bob's squabbling family, owners of a Detroit compression sock business, and its interactions with Abishola and her Nigerian relatives.
Growing up in a London council flat—the equivalent of our projects—Yashere watched the Huxtables and Diff'rent Strokes, and dreamed of America. Defying her mother's ambition that she become a doctor, instead Yashere battled sexism and racism as an elevator engineer. Then she broke into stand-up, the 2007 finals of Last Comic Standing, and appearances on The Tonight Show, The Daily Show with Trevor Noah, and Netflix specials.
"I just wanted to be a best friend in a sitcom and then use that to sell out theaters as a comedian," marvels Yashere, who is using her newfound power to help others succeed.
Shortly after Bob Hearts Abishola was renewed for a fourth season, she spoke to the Writers Guild of America West website about transitioning to sitcom writing.
What was it like going from stand-up to a writers' room?
I knew if this didn't work out, I'd go back to what I was doing before, quite happily. So I was quite relaxed, and because of that, I knew when to interject, to add a joke, when to sit back and listen. I'm a storyteller in my stand-up. Obviously, I know funny. I build a story, and I punctuate it with punchlines, so the joke writing part of the show comes easily. But structuring it, building the characters, building an arc, not just going for the joke and actually going for the emotion and building that, I've never had to do that before. In a room with Chuck, and Al, and Eddie Gorodetsky, I'm watching how they work and constantly learning.
What did you bring to the pilot?
They had no knowledge of Nigerian culture whatsoever. I picked the tribe, Yoruba, because the names are very phonetic. I thought it would be easier for Americans to get behind it and be able to pronounce the names. Also it was a tribe that I was very familiar with. A lot of my mum's friends were Yoruba. Abishola's husband going back to Nigeria because he couldn't get work as an engineer, and her deciding to stay behind to give her son opportunity, is basically the story of my childhood. So a lot of the stuff that happens on the show is either experiences that I've had, or experiences that my mother had, or family and friends. I was able to bring a lot of my ideas that I'd originally been pitching that nobody wanted, and it's a success. I'm forever grateful to Chuck for giving me the opportunity.
Were you there during casting?
Whenever Nigerian actors came in to audition, I made sure that I was in the room. They immediately felt at ease. They knew that there was a Nigerian, so they wouldn't be asked to do anything that made them uncomfortable, any kind of buffoonery. Not that Chuck and Al would've done that. We need more black people in higher positions so that when black people come in to audition, they know that they're not going to be asked to do anything that may be considered racist.
How did you develop Abishola? She's tough and unsentimental, but Folake Oloyofoleku allows viewers to see what she's feeling under her gruff exterior.
Kemi and Abishola are both mixtures of my mum. Kemi is how my mum is with her friends. And Abishola is how my mother was with us. Very hard working, not that humorous because she wanted us to succeed very badly. And so she was very straight. "You can't do this, you can't do that." As we move through the seasons, we're softening her up a bit. I said to them from day one, Abishola has to be a dark-skinned Nigerian actress. If I hadn't fought for that, they would've gone the same way that they always go in Hollywood and cast a light-skinned actress, which would've killed it dead because the majority of Nigerians are dark-skinned.
Mothers are crucial to the show, including Bob's difficult mom, played by Christine Ebersole. But the show's a love story. First, Abishola resists Bob, then resists marriage. This season they finally marry in Nigeria when Abishola's teen son, Dele [Travis Wolfe, Jr.], visits his father, who decides to keep him.
We always wanted Bob and Abishola to marry. We didn't know when they would get married, because we never write the scripts way in advance and go, "Oh, all right, it's done." We'll write an episode and we don't know what's going to happen next. We like to actually follow where the story goes, because you never know how it's going to come out, the nuances and things. Bob and Abishola have to go to Nigeria to get Dele, so we were like, "What better place for them to get married?"
The wedding was spectacular: elaborate dress, choreography, traditional customs blended into the storyline.
I was very much involved in picking the music, bringing in Nigerian experts. Our costume department—if they don't win an Emmy, then there's something wrong with the Emmys. I feel like it was a groundbreaking episode. I mean, where have you seen a full tilt, fully fleshed out Nigerian wedding on primetime TV?
What have you learned from Chuck Lorre?
He really likes to get to the crux, cuts out all the meat. We'll write a script and he'll go, "You don't need that. You don't need that." He strips it to the bare story. Sometimes you go, "No, why did he take it out?" But then you watch and you go, "Oh, he was right." Annoyingly. But right. Some other sitcoms, it's all about jokes, jokes, jokes, jokes, jokes. We like to do jokes, but we also like to make the characters more real and three-dimensional. Obviously, we want laughs, we're a sitcom. But if there's a moment that we want to follow, and it might not necessarily have a laugh because it's a real moment, we let that moment sit.
You cover some serious subjects.
We've covered xenophobia, racism, we're covering homophobia. But we're covering it with humor. This is CBS. The majority of our audience is old, white people, and we're teaching them without them even knowing. They're learning about a whole different culture. They might never have met somebody like Abishola, or Kemi, or Uncle Tunde [Barry Shabaka Henley]. They might never meet somebody like that. But they've fallen in love with these people. We're doing massive things with this show that people are overlooking, because we're on CBS, not on HBO.
The show usually does get ignored at awards time.
We're a multi-cam. Single cams are all the thing. If people take the time to watch, the way we shoot, we shoot like a single cam anyway. We use steady cams. We block shoot. We don't shoot it like a typical sitcom. I feel like we're getting overlooked a lot because of the snobbery against multi-cams.
Homosexuality is illegal in Nigeria. You tackle that extreme homophobia but remain laugh-out-loud funny. Kemi tells Abishola she went to an all-girls school and knows how what she disapprovingly calls lesbian-ity works. "After lights out, we would fumble in the dark…We were preparing ourselves for men."
Obviously, it's kind of based on my experiences and other gay Nigerians. We wanted to do it in a way that wasn't too fairytale. Keeping the humor, but still keeping the depth. We didn't know exactly what we were going to write when we started.
Kemi's too old to have more children, but her younger boyfriend wants them. You created Kemi's beautiful young rival, Morenike [the Nigerian-born Tori Danner], who turns out to be gay: another example of how you follow the story.
Originally, she was just a love interest and kind of a surrogate. Then I was like, "Well, what if she was only doing it because that's the only way she could escape from her sexuality in Nigeria?" We just kind of continued from that "Well, what if?" We still don't know exactly what's going to happen with Morenike.
What's the room like?
When we did the pilot, I said to Chuck and Al, "Look, it's great that you've discovered me, but there's a lot more 'me's out there. Let me help you find them." I had a show at Flappers Comedy Club in Burbank. I put a lot of my friends on to open for me, and invited Chuck, and Al, and Eddie. They saw Gloria Bigelow, and they're like, "Oh, we like that woman. She was very funny." That's how Gloria got on the show as a writer. We've got three black women in the room. We've got one black male writer, Jamarcus Turner. He was working in a factory in Indiana. He started writing stuff and sending it in for competitions. His script ended up on our desk, we did a Zoom meeting, gelled with him really well, and we were like, "Let's get him on the show." We all take turns, write different scenes so everybody gets to write. I like the fact that I've been able to bring new talent to them. My next project I definitely want to do is bring my book [a memoir, Cack-Handed] to the small screen. After that, I would like to go back to some of my other comedian friends who are talented writers and get their projects off the ground, through the Chuck banner.
Extraordinary timing that Lorre needed a funny female Nigerian collaborator. How often in a lifetime could that happen?
Exactly. I've always been a little bit ahead of my time, and it's always hurt me, but this is the one time where the universe aligned.
© 2022 Writers Guild of America West