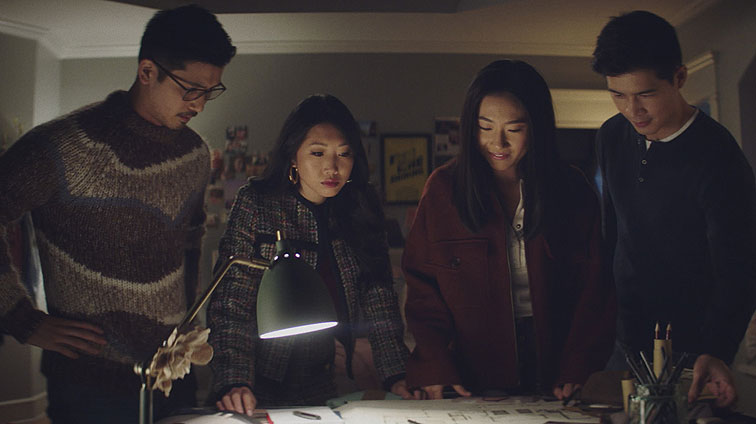 Co-showrunners Christina M. Kim and Robert Berens take on issues of inclusion, representation, and racism in their reboot of the '70s hit series Kung Fu.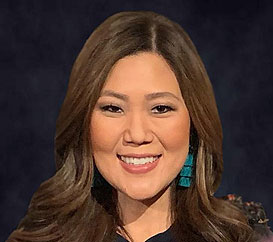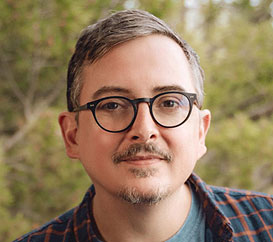 For the majority of my career I've been in many [writers'] rooms that right now people would be canceled for. In every room I was in that was inappropriate, that was not a positive work environment, all I could think about was, One day, I hope that I'm a showrunner, and I'm not going to do this.
Last year, when co-showrunners Christina M. Kim and Robert Berens were staffing the room for Kim's reimagining of the '70s ABC cult series, Kung Fu (created by Ed Spielman and developed by Herman Miller), they pored over hundreds of submissions in their search for talented Asian American writers. Five ended up joining them in the 10-person virtual room.
"We read so many wonderful spec scripts," says Kim, who was born in Chicago and spent part of her childhood in Seoul, South Korea. "These young writers, many of them, were writing pilots about the Asian American experience. I never would have written a pilot 15 years ago about a Korean family. I would have thought, No one's going to buy that. That's never going to sell. And so it feels like there's a bit of a shift in the tide."
Maybe so.
Following more than a century of humiliating depictions of Asian Americans and Pacific Islanders in Hollywood movies and on television, and with white actors habitually cast in Asian roles, a flurry of awards have landed on films and TV series with Asian characters and themes. Now, Kim's updating of Kung Fu has debuted on The CW Network: the first U.S. network television drama to star predominantly Asian Americans.
In the original Kung Fu, David Carradine played a half-Chinese Shaolin monk who wandered America's Old West, practicing martial arts as he battled racism and other ills. Now Olivia Liang stars as the Chinese American Nicky Shen, who flees to a Shaolin monastery in China after her mother tries to arrange a marriage, then returns to San Francisco following the murder of her mentor. The drama has maintained high viewership numbers since its premiere last month, and the CW announced this week that the show would be back for a second season.
Recently, Kim and Berens talked to the Writers Guild of America West website about the groundbreaking series that combines action-adventure, mystery, family dynamics, and romance.
David Carradine is just one example of white actors—from Mary Pickford to Scarlett Johansson, with Fred Astaire, Katharine Hepburn, Marlon Brando, Mickey Rooney, and countless others in between—appropriating Asian roles. What were your decisions, Christina, about how to develop the pilot and how important was inclusion to you?
Christina Kim: There's a lot of pressure that comes with making sure that you're honoring the original material. So I focused on what I thought was really interesting. The spirituality, the Buddhism. Obviously, the kung fu skills are important and also very cinematic and cool to see on television. And then the one thing I was not going to ever waver on was that we needed a full Asian actor to portray this character. Luckily we found an amazing woman in Olivia. I also wanted a big family element, because family is so important, particularly to Asian Americans and to this girl's story: her relationship with her mom, especially, growing up in an Asian American family, and the different cultural nuances of independence, and finding your way in life, and trying to please your parents.
As you were growing up, were you aware that there weren't many role models for you on screen?
Christina Kim: I was very aware—very, very aware—that no one looks like me on television. Growing up and now. And that's just how it was. It wasn't something that I felt was going to change, or that I could change. Now that I have my own kids, it was really exciting to create something where I felt like they would be able to turn on the TV and see people who looked like them. Wednesday night is Kung Fu family night. And my husband and my two boys and I get on our bed and we watch Kung Fu live. I hope this is just the first of many shows, not just for Asian American representation, but all kinds of representation.
Your career path sounds enviable: an English degree from Georgetown, an MFA from USC, then a spot in the CBS Writers Mentoring Program that led to three years as a staff writer on Lost. You shared a Writers Guild Award and two other nominations for Lost. Then you moved on to NCIS: Los Angeles, Hawaii Five-O, and Blindspot, among other series. But was it as perfect as it sounds? Were you ever subjected to racism or insulting jokes?
Christina Kim: Yes, for the majority of my career I've been in many rooms that right now people would be canceled for. In every room I was in that was inappropriate, that was not a positive work environment, all I could think about was, One day, I hope that I'm a showrunner, and I'm not going to do this. So that was the most rewarding thing for me, to be able to have an environment where you feel safe, where you're excited to come to work, where you don't have dread on Sunday night. And you can feel that you can be creative and not be judged for things you should not be judged for.
Robert, you're not from an Asian background. How does that affect the way you approach the show?
Robert Berens: We were all dependent on a room full of diverse voices. It's about knowing what I don't know, and learning what I can. I know what my instinct is on the basis of global story, narrative shape, and the arc of the story. But when it comes to those [cultural] details, it's about being humble enough to check any kind of arrogance about, Well, this is how I want the scene to go. If the scene isn't working for the actors, if the room is raising questions, then it's my job to listen, and to assimilate those ideas respectfully, and to defer to Christina and the other writers, to defer to our executives, as well as our consultants. We had a Buddhist consultant, two cultural consultants, and our cast, too.
While you were starting to write the season, our former president was still spewing his loathsome rhetoric about "kung flu" and the "Chinese virus." Recently we've been hearing about rising acts of violence against Asian Americans. Anti-Asian violence and discrimination has been a shameful part of American life for centuries, but it must have affected the room.
Christina Kim: It's not a new problem. And so, early on in the season, as we were developing episodes, it was something we thought was important to address. And not in any kind of heavy-handed way, but just to show that safety and racism against Asian Americans is something Asians think about. It's sort of part of your daily life. We wanted to show that the Shen family in the show also was dealing with it in their own way. It's a small part of a larger storyline, but we certainly do show it and address it.
Robert Berens: It was still what we call blue sky days in the room. During the height of 2020 Black Lives Matter, after George Floyd, the network reached out to us and said they were hoping that each and every show on the network that season would address BLM in some way. That was at once an intimidating ask and an exciting one, because we always wanted the show to address real life issues. And the big issue is, we have an almost entirely Asian cast of characters. And how do you address BLM in a way that feels organic and natural to the world of our show and the experience of our characters?
One thread in the story that we all kind of fell in love with was [the mother] Mei-Li's journey. We discovered an incident in her past with her family. She protected them from an act of violence that was committed against their restaurant many years ago. And that really accomplished a lot for us. It's the sort of secret that parents, and particularly Asian and people of color, generally have to keep. Which is, at what age do you expose children to the reality of racism and racist violence? And at what age do you keep it from them? Ultimately, the episode's theme is Black and Asian solidarity as people who have had very different experiences of struggle and oppression and racism in this country. Angela [A.C. Allen], a wonderful writer of ours, volunteered to write the episode. Our director, R.T [Thorne], also did an amazing job. So it was a case where both on the page and behind the camera, we had a Black writer and a Black director handling this episode.
Since then we had that heartbreaking shooting in Atlanta in which six Asian women were murdered.
Christina Kim: We were just starting to do press for the premiere when the tragedy happened. So, it was at the top of everybody's mind. And I remember we did the upfronts, and the first question we got was our feelings of what had just happened. Everybody was shaken up. It was an awful tragedy. We're just a TV show. We're not changing the world, but at the same time, it did feel like the timing was good in that we could talk about the TV show, where we're trying to have representation on screen to show we're just like other people, we have the same problems as other people, so that we're part of the fabric of everyone's lives. It felt like there was a little bit of a bright side that we were all trying to highlight in a really dark, sad time.
It must be gratifying, too, to be creating material for these talented Asian American actors whose roles in the past would have been taken by white people.
Christina Kim: When I was casting the pilot, I was sitting in the TV building at Warner Bros., and all the hopeful actors who were coming in for their auditions are all in this one long hallway. And the head of casting said, "This is rare, I've never seen our entire hallway filled with Asian talent. This is something you don't see every day." I felt that, too. And our lead, Olivia, said there was a feeling of camaraderie for all those actors because a lot of them knew each other, and it just felt like, "Well, if it's not me, it's going to be you. And I'm happy for you. As long as it's one of us, this is great."
The grandfather of the young woman, Shannon Dang, who plays the sister, Althea, was in the original Kung Fu.
Christina Kim: He said, back in the day, every Asian actor got to be on Kung Fu. It was an opportunity to be a background actor, or have some small part. And so it's come full circle where now, the leads are Asian Americans, they're not background actors. And his granddaughter is one of the leads on the show. I thought that was so incredible.
© 2021 Writers Guild of America West