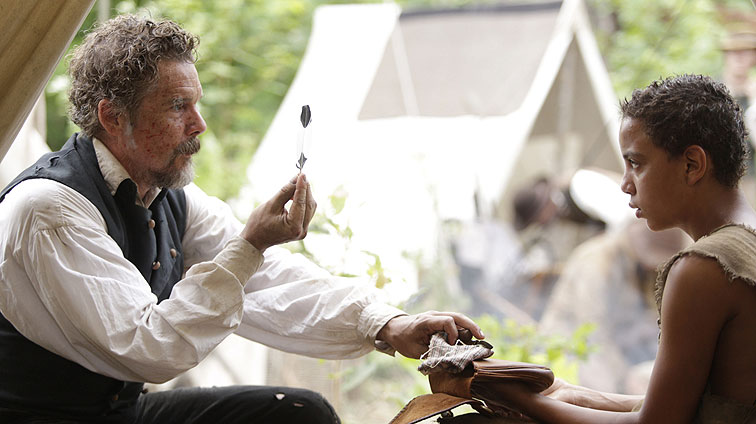 Ethan Hawke and Mark Richard team up to create The Good Lord Bird, Showtime's adaptation of James McBride's irreverent novel about a young freed slave caught up in the murderous escapades of abolitionist John Brown.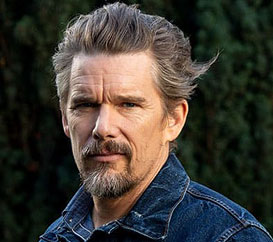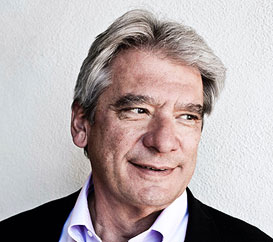 I can't tell you how many screenplays I read where directors say to me, 'Yeah, I know it's kind of boring, but we're going to really make it fabulous.' It doesn't really work like that.
As show creators, Ethan Hawke and Mark Richard strove to be vessels for what Hawke calls the "half-magic trick, half-miracle" that is James McBride's 2013 National Book Award-winning novel The Good Lord Bird. The novel is a retelling of John Brown's take-no-prisoners campaign against slavery, culminating in the failed raid on a weapons armory at Harpers Ferry, Virginia, seen as the tipping point of the Civil War. But The Good Lord Bird is a far more bent piece of historical fiction than is typical. It is, among other things, a comedy. The protagonist is not Brown but Henry Shackleford, aka Onion, a young slave mistaken for a girl and caught up in the Brown gang's murderous escapades. For Onion, that means wearing a dress and going around in a kind of enforced freedom, terrified enough of Brown to wonder if he ought to be escaping back into slavery.
In the Showtime limited series that debuted in October, Joshua Caleb Johnson is the young Onion and Hawke plays Brown as a greasy-bearded, homicidal, Scripture-spewing abolitionist (he's on the right side of history, but that doesn't mean he can't be extremely tiresome). It was Hawke who got McBride's blessing to adapt the book, even if it promised to be a tough sell. Enter Mark Richard (pronounced Ri-Chard), the novelist and short story writer whose TV credits over the last decade span Hell on Wheels, Fear the Walking Dead, and The Man in the High Castle.
In January 2019, Hawke was in a Broadway revival of the Sam Shepard play True West when The Good Lord Bird, produced by Blumhouse Television, was greenlit by Showtime. In the months prior to shooting in Virginia, Richard led a writers' room in Los Angeles that included Kristen SaBerre, Erika Johnson, Jeff Augustin, and Lauren Signorino.
Recently, as The Good Lord Bird concluded its premiere run on Showtime, Hawke and Richard spoke to the Writers Guild of America West website about adapting literary fiction, taking the piss out of venerated historical figures, and how to write an interesting dinner scene.
How did you two come together as writing partners on this?
Ethan Hawke: Mark and I owe a great debt to an executive at Blumhouse named Jeremy Gold. Jeremy had worked on Hell on Wheels with Mark. It seemed clear that I needed somebody who cared about writing at the same level I did, but who knew more about television than I did, and the world of running a show. I read a couple of Mark's short stories and was really blown away. We got set up on a meeting and got along thick as thieves from the first conversation. Mark's knowledge of the South and history combined with his knowledge and love of literature, we both had the same hit on what McBride was going for.
Mark Richard: I went to see Ethan in True West. He had a couple of comp seats in the audience, and James McBride sat next to me, and we got along like a house on fire. And then the three of us went out, rooftop to rooftop in Manhattan 'til like 3 a.m., so it was a really nice synergy from day one.
The story begins with Onion meeting John Brown and builds to the raid on Harpers Ferry. What were the nuts and bolts in terms of making the novel a coherent series?
Mark Richard: Ethan and I both agreed the book kind of broke up into five sections. It's a five-act play, in a way. James McBride is a brilliant writer, but as all writers do, sometimes we repeat ourselves within our own narratives. I think it was Chekhov who said, "We all write about a white horse." And you know, if you have your white horse you go back and pet its head occasionally. There may have been a few places midway through the book where the beats were similar, or there were some similar emotional connections between Onion and John Brown. So we had to really take a hard look at that and see, "How can we drive the narrative forward without repeating ourselves." When we went off-book or when I had to trim or combine, I'd pick up the phone, and we'd get James on the line. And he never said anything except, "Trust your instincts, go with God."
Ethan Hawke: He would say, "Oh, you've entered the dreaded middle." The book derives a tremendous power and engine from Onion's voice, but Onion doesn't often know why things are happening to him. He's not privy to John Brown's private conversations. So one minute they're in a battle, and the next minute they're not in a battle, and he doesn't have any idea why. It's kind of funny in the novel. But drama wants to know why things are happening, and why things change. And so it was very hard for us to find the dramatic way to achieve Onion having both agency in his own story and being a victim of his own story.
Whereas John Brown is bigger-than-life.
Ethan Hawke: I felt particularly useful here because I've played so many characters in my life that fit the witness role. Where you are the lead, but you are not the event. Take Training Day, for example. Jake is the lead of Training Day, he's in every scene, his character's journey is the journey of the movie. But Alonzo is the event of the movie. He's providing the intersection, the sparks. In a lot of ways this relationship [between Onion and John Brown] worked in a similar way. Joshua's character often is observing. But having played a lot of those parts, I've learned when they hurt the actor and when they help the actor. Often, if you make your lead character too much of a witness, the whole show goes flat. He has to be engaged and in it in a way that is also meaningful. And that was a dialogue that Mark and I constantly had.
Ethan, I heard you say that you had to fight very hard to get this material to the screen. I can see how it would make executives nervous, a comedy set during slavery, with two white men, you and Mark, making the ultimate creative decisions.
Ethan Hawke: It's very scary whenever you talk about race in America, and that's why often people just decide not to talk about it. One of the interesting elements about the two white guys working with McBride is that one of the beautiful things about John Brown, and one of the reasons why McBride was hell-bent to make him famous, is to create a lane of what white ally-ship can look like. Whoever was going to do this show, some white guy had to play John Brown. The beauty of the Harpers Ferry raid is that it's a story of black men and white men working together to break the faulty DNA of this nation, and to fix it and to heal it. We had to start by being integrated ourselves.
Mark Richard: I owe it a new friend of mine named Heather Rae who is a Native woman. We're working on a project, and she said, "It keeps getting swept under the carpet that you're Native American." And I said, "Well, you know, people see what they want to see." So we had an interesting spectrum of not just two white guys and a black guy. James and I came from such a similar background. His grandmother grew up about 40 miles from where I grew up. And we both grew up in the church. For the last 30 years I've been a deacon in a black church. So it was cross-cultural.
What is your Native American heritage?
My father's family is Mississippi/Alabama Choctaw. And my mother's family are Louisiana Coushatta. But they're also Cajun and Creole. They're from Lake Charles, Louisiana, so they're all mixed up.
You're both fiction writers. As screenwriters, how much of the craft is about getting out of the way of what ultimately will happen when the actors get involved?
Ethan Hawke: I can't tell you how many screenplays I read where directors say to me, "Yeah, I know it's kind of boring, but we're going to really make it fabulous." It doesn't really work like that. The best screenwriters I've worked for create a path for success. It's a simple path and a clear path that can allow for coloring outside the lines. But, you know, Training Day was not a boring piece of writing, it was an electric piece of writing. Mark really kicked ass on the pilot, and the response we got was tremendous. And we drew a tremendous amount of strength from people's reaction to that pilot. People do smell when you're up to something. You can't disappear entirely, and you can't try to micromanage. It's a very weird Zen skill set of screenwriting, which is spirit, blood, sweat has to be on the page, and it can't be about you. It has to be an avenue for others.
Mark Richard: When I started writing television I was on a Criminal Minds spinoff, and I remember one of the actors saying, kind of in disgust, "Every fucking scene Richard writes is a one-act play." I felt bad, I felt like a failure, that the actors were pissed off that the scenes were too long. But then as I got into a place where I could write what I wanted to write a little bit more, especially on a show like Hell on Wheels, I just went for it. What Ethan is saying is true. If the actors smell what you're up to, they're going to go home and learn a 12- or 19-page dinner scene. Our dinner scene, Ethan, I don't know how many pages that was.
You're talking about the scene when John Brown and Onion travel to Rochester, New York, to consult with the orator and "King of the Negroes" Frederick Douglass.
Mark Richard: I was in the corner of the room while we were shooting, and then Ethan and I would go out in the hall, and we'd tweak and torque and get it just right, and you know what? It worked. And it's a dinner scene. Dinner scenes are notoriously boring.
Ethan Hawke: They're famously boring. For me, that episode, the ideas that play in that dining room scene are really exciting ideas. Mark and I, we couldn't get over the fact that John Brown and Frederick Douglass were really friends. John Brown went and stayed at his house. What the hell was dinner like? You get high on that idea. Once you imagine really placing America at that dinner table, you don't want to let go of it.
I imagine if you've gotten any blowback, it's for Daveed Diggs' portrayal of Frederick Douglass, who comes off as a dandy, juggling the needs of a black wife and a white mistress living under the same roof.
Ethan Hawke: We really haven't gotten blowback about that. I've been so proud of Daveed's reviews. More than anything, people are understanding what McBride is up to there. The idea of human equality is not that one person is on a dais and another person is not on a dais. McBride is having real fun, and if he didn't have fun, it wouldn't be enjoyable to watch. Audiences love it when you take a dare. Our job is not to sell anything, our job is to get people talking, get them thinking. We had to realize that we welcome blowback. As long as anyone is talking about Frederick Douglass, we're winning, you know?
Mark Richard: Just to be honest, when it got real tight, and we were getting pushback about, let's just say the Frederick Douglass stuff. My thermo-nuclear weapon was I'd get on the call with McBride. And I'd say, "James, you gotta help me, man." And he would talk them through it.
© 2020 Writers Guild of America West