More Power to You
TWW's love for portable chargers continues with the myCharge Hub Universal, an all-in-one device that eliminates the need to remember and untangle multiple cords.
August 9, 2019
By Robert J. Elisberg
Tech gadget lovers usually have numerous devices that they need to recharge at the drop of a hat. Some people like to stick to one brand across the board for their devices, while others prefer to dabble here and there to find what works best for them. Having to carry around and untangle various charging cords can be a headache and that's even if you remember to grab all of the ones you need for the day. myCharge's new Hub Universal chargers feature a built-in USB-C and an Apple Lightning cable to quickly recharge compatible devices. The all-in-one chargers also feature a built-in USB-A port and wall prongs on the back that can be plugged into a wall outlet to recharge the unit. The Hub Universal is available in two options: the 6,700 mAh Hub Plus and 10,050 mAh Hub Max.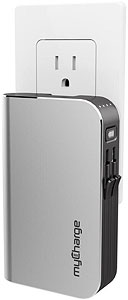 As I've noted in the past, I have this inexplicable love for portable chargers. But it exists, and there you have it. And among my favorite companies is myCharge which has long had a wide range of clever, well-designed devices. Their Hub line has recently added the HubMax Universal and HubPlus—the difference being capacity. The former (which was tested here) is 10,000 mAh, good for around six full charges of an Android phone, and maybe five for an iPhone, while the latter holds 6,700 mAh (which can handle approximately four Android and three iPhone charges respectively).
What's always made the Hub chargers unique is that they have a built-in AC plug to recharge the device itself. So, there's no need to carry a spare cable with you. Just flip the plug out and connect it to any outlet. The one downside is that if you're on the road without an AC outlet available, you can't use a cable to plug into a computer or a port and draw a charge that way. But that's a rare reality for most people. (And it's not like you'd be stuck, since the easy workaround for such an uncommon situation—if your phone or tablet also need a charge at that time—is to charge them directly with a cable plugged into a portable computer, for instance, or a port in a car, and just recharge the HubMax later. Hardly the most convenient thing, but not remotely a problem,)
The Hub chargers also have built-in cables, which has long been my preference. In that regard, there's nothing new about the HubMax Universal (or HubPlus). What's new is the specific built-in cables that the devices include, which is notable for the growing usage of USB Type-C as the coming standard. The two included cables are USB Type-C and the Apple Lightning plug.
There's also an open port, so if you have a device requiring another kind of connection (most notably an Android phone with a micro-USB port), you can use a separate cable for that.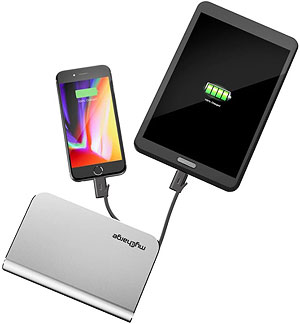 In fact, you can plug three devices into the HubMax Universal and charge them all at the same time. You won't get the same output, of course, as just one device, so it will be slower, but they'll all charge just fine. And with only one device plugged in, it charges quite fast—especially with the USB-C cable which is QuickCharge capable, four times faster than standard charging. For that matter, the built-in battery within the device uses Rapid-recharge to charge itself very quickly with the AC plug. The company says the HubMax should hold its battery power for a year, though I didn't test this (preferring not to wait that long to write this review, needless-to-say…).
In that the HubMax holds a substantial charge, it's not a light and portable device to stick in your pocket for a safety charge or two when you're on the road. But for such large capacity, it's fairly small in that regard. You could easily stick it in a coat pocket, purse or briefcase. It isn't light, but at 9.5 ounces it's not a burden. And it's about the size of an extra-large pack of cigarettes—about 4.5" x 3" x1". (Know, too, that the HubPlus is slightly smaller and a bit lighter—not a great deal less, but around 8 ounces.)
One tiny quibble in some ways is also a good thing. While the Lightning plug slid in and out of its slot easily, the USB-C plug took a slight amount of effort to snap in and pull out. That said, you know it's a sturdy connection.
There are other portable chargers than the HubMax Universal that I'd use if I just wanted to grab something for my pocket when going out and might need a power boost later in the day. The versatility of the device, though, is its strong point—the large capacity, enough for charging a phone and tablet when out for the day or on the road. The ability to charge three devices at once—two with built-in cables. Having both a USB-C plug (quickly becoming the standard) and Lightning. And the simplicity of just plugging it into a wall socket. Along with its fast charging. So, if one regularly has heavy power needs during the day, especially if much is on the road—or for traveling, where the HubMax has so much built in it could cover a multitude of needs—I think these are where its value would be most effective.
At the time of writing, I found the HubMax Universal online for $80 (a good price since the best I found for the smaller HubPlus online was $78).
Facebook sent out a warning that there had been a flaw in its Messenger Kids app which allowed children to talk to strangers. It's now been fixed, but the "technical error" meant a child could go into friends-of-friends group chat that hadn't been approved by their parents.
In two big one billion-dollar investments, Microsoft invested that amount in an Artificial Intelligence venture founded by Elon Musk. And Apple is in talks to buy Intel's modem division for the same figure, a deal believed to be related to the upcoming 5G phone standard.
Equifax will pay up to $700 million in a settlement of its 2017 U.S. data breach that affected 147 million people. It's the largest settlement of a data breach case. The final total is certain because the company established a $300 million restitution fund for consumers, an amount which can grow depending on "who can show they suffered direct costs from the breach."
Similarly, Facebook agreed to pay a $5 billion fine over a data leak and privacy violations for which they didn't inform tens of millions of users. While this is the largest such fine the Federal Trade Commission has levied, it's worth noting that last year Facebook made a profit of $22 billion.
After pulling its scheduled release three months ago on April 26, Samsung has announced that it has fixed five screen issues and its Galaxy Fold will now soon hit the market. Like the mobile phone itself with a foldable screen, the new release date is flexible, as well—there's no specific day, but a scheduled month…September. The price of the phone clocks in slightly under $2,000.
To read more from Robert J. Elisberg about other matters from politics, entertainment, technology, humor, sports, and a few things in between, see Elisberg Industries. He can also be followed at a distance on Twitter or Facebook.
Note: The Writers Guild of America West neither implicitly nor explicitly endorses opinions or attitudes expressed in this article.
Copyright 2019, Robert J. Elisberg. All rights reserved.