The Writers Workbench
Whatever Suits You
The Writers Workbench steps out in style and reviews a sport coat that will help you take your home office with you on the road.

March 15, 2018
By Robert J. Elisberg
This month we have a bit of a sartorial oddity. We look at a couple of products for those times when you have to leave your home office behind and hit the road—and as a result, one of those items is none other than a sport coat.
Yes, a sport coat, you read that right. But it makes sense. Even if being the well-dressed man about town is not my strong point. (Once when working years ago at Universal Pictures, one of my co-workers who rightly fancied herself quite the fashion plate came storming into my office, threw her arms out in agony and moaned, "Wear something other than khaki Dockers!!!"—and then spun around and stomped out. Sorry, I have my style. Even if it's "Lack thereof.")
There are more than just clothes this month, of course. And what better for when hitting the road but a portable charger. But even though such devices are among my faves and most reviewed here, it actually fits perfectly with the jacket. And therein lies the tale.
ion piece to an entertainment-based article I wrote several months back. The other, modest as it is, deals with a logistic issue writers often find themselves having to resolve.
Yes, I understand that a sport coat is not the first thing people think of when checking out a technology column. But it fits (no pun intended). Honest.
As long-time readers of this column know, one of the things I often discuss is being able to take your home office with you when on the road—laptops, tablets, portable chargers, portable speakers and such. And SCOTTeVEST is a company that makes clothes that help with that. Their line of products— from jackets to pants and shirts and more— specifically have a massive range of hidden pockets built in to allow for carrying around as many of your portable needs as possible (like a portable charger, and how convenient: see the review below…). In fact, they even make pajamas and underwear with hidden pockets— no, really. And importantly, they design them so that the clothes don't look bulky when packed, but actually normal. So, when you're on the road, you don't necessarily have to carry around a briefcase with you wherever you go, but can be reasonably covered (no pun intended, again) with just a jacket or pants.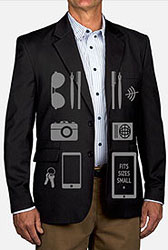 Among all the SCOTTeVEST products, I decided to check out their T5 Sport Coat because I thought it had more applications, especially for a writer on the road. Being dressier, it would be appropriate to wear at a meeting or in the evening, but it's casual enough as a basic jacket, and it's helpful for traveling on a plane when your carry-on is already full.
(I actually find this latter of special interest. The vast number of pockets on the T5 Sport Coat removes some of the concern about not having enough room in your carry-on luggage by letting you load yourself up. Further, anything you have on your person doesn't count against "carry-on luggage" weight, which is critical when traveling internationally. Besides which, your devices will be on your person without having to scrounge through your luggage for them when buckled in your seat.)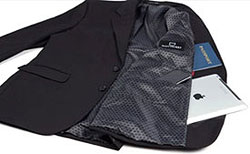 I haven't quite figured out exactly how many pockets the T5 has. I've seen documentation that says there are 19 pockets, but other material says 18. And I was only able to find 14 (which is more than plenty), though they might count pen holder and ear bud holders as pockets.
Among the pockets is a large one in the back for a full-sized tablet. There's also a pocket with RFID-blocking for your passport (though beneficial as this is, I feel most comfortable keeping my passport in its own RFID-blocking holder, not just for piece of mind, but there are a lot of times you'll have your passport out, where it should also be protected). And to show you how crazy for pockets SOTTeVEST is, the outside hand pockets additionally have zippered pockets inside them, as well, good for coins, for instance, or anything you want to keep more contained. There is also a key-holder pocket, and the aforementioned pen holders. And much more.
Also good, hidden inside one of the pockets, is a chamois on a connected cord which serves two purposes. One is that the chamois can be used to clean your eye glasses, and the other is that it has a map on it to show where all the pockets are.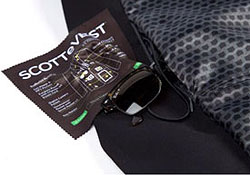 I did a test where I loaded myself up. I packed my coat with four cell phones, a portable charger, a large AC charger, a 12" tablet, a camera, an ebook reader and two pair of glasses. And though it felt bulky (since it was), it didn't feel uncomfortable and remarkably didn't look bulky at all, but presentable, not like I could have stood in for the Pillsbury Doughboy. And there were still plenty more pockets and room to stuff other things in.
SOTTeVest prides itself on something they call the "Personal Area Network," a system it uses on all its jackets for threading an earphone cord so that it remains hidden inside the lining of the coat and only the earbuds show at the top. Though it works as intended, I found it an annoyance to set up, and not really necessary. Not only is it fine to just hang your earphone cord inside your jacket (or outside most of the time), but so many people use Bluetooth phones today, anyway.
The coat is a two-button model, 71% Polyester, 26% Rayon and 3% Spandex, and felt quite nice to the extent that I'd be fine wearing it even without needing it to carry around my portables.
I did have some quibbles. The main one is that the jacket doesn't have the traditional inside pocket that's vertical, and I personally find such a pocket valuable—among other things, it lets you carry a tall reporter's notebook that's easy to grab (important for my work at tech shows, but helpful in general as a writer with a notepad), or keep folded papers you need to quickly access, or ideal for a pair of eyeglasses. There are other pockets where all these items fit perfectly fine on the T5, but for me they're just not as convenient. The inside lining is the same thin material you'd get on any sport coat, but I wish felt was a little sturdier since with the T5 you're regularly pulling zippers and I always had a concern of it ripping, so I took extra care and would use two hands which, while protective, was a little inconvenient. To be fair, for all I know the lining would have held even with sturdy tugging, but I wanted to be safe. Also, a lot of the company's jackets have a cell phone pocket with a clear plastic screen that allows you to use the touch screen without removing the phone. However, there's no plastic screen here in this specific coat—not critical, but it would be nice. And the T5 Sport Coat only comes in black. Certainly not a problem, but a choice of at least dark blue would be nice.
One caveat. I found that the jacket was sized small. I wear a 38 sport coat—all my sport coats are 38. But this was tight in the shoulders. When I exchanged it for a 40-size, it fit spot-on fine, though I had to shorten the sleeves. By the way, returning it was extremely easy, though in fairness I was dealing with the marketing department, not sales. But from comments I've read online, SCOTTeVEST seems to be very responsive to customers.
The SCOTTeVest T5 Sport Coat retails for $235. I think it's nice enough to serve as one's only dark sport coat, though my preference is a dark blue and there are times when I really do prefer that vertical inside pocket. But I found the many extra pockets really wonderful for work conditions, and it was terrific when flying to have all the pockets, both for the quick access and freeing up carry-on space and weight. So, I can see it as a valuable "work expense." And if it did double as your main dark sport coat, it would do its job well.
Last year, I wrote about a new portable charger I came across by chance that had a lot of things I liked about it. It was different than others that were my faves, and a bit odd, but for all that it probably joined that Favorites category (which, given my love of portable chargers, says a lot). It was called the Thinium ReCharge+. They've come out with a new model, the 2.0, which is largely the same but with some notable changes.
One of the reasons I always say I like portable chargers so much is that the best of them tend to be well designed and sort of multi-task, since the best have to offer a lot of features in a small package. And for all its differences, the ReCHARGE+ 2.0 succeeds specifically for all that.

The Recharge+ 2.0 is a very well made device that holds 3000 mAh (milliamp) of power, which is a little low, but plenty for providing at least 1-1/2 charges of a mobile phone. It's about the size of a mobile phone, which specifically suits its unique feature, the platform. Indeed, the platform is what's unique and makes the device especially easy to use your phone and charge at the same time.
When looking at portable chargers, a requirement for me is that they have built-in plugs since you then don't have carry around extra cables. The ReCHARGE+ handles this differently than most, if not all other chargers—instead of having a cord that pulls out, there this is platform at the bottom which you push out, and a pin. The phone connects to this pin and sits on this platform. And with the aptly named Thinium being…well, thin, you can conveniently use your phone while it's charging, holding both devices in one hand.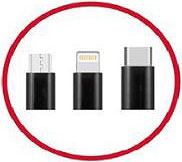 This where the major change with the 2.0 occurs. Previously, Thinium had two separate, dedicated models, one for micro-USB and one with an Apple Lighting connector. Now, however, the 2.0 has a little blank peg and comes with adapters that you snap on—the micro-USB and Apple Lightning, but now there's also a plug for USB Type-C, which is becoming the standard (especially since the new iPhones use them, as well as some Android models). Ostensibly, this is good for the consumer who may have different models at home and no longer needs to buy two different chargers, but just swap the pins. And while this is an issue, the point of a portable charger is you take it with you, so you likely won't be swapping pins much. Where it's most valuable is if down the line you buy a new phone that now comes a Type-C connector as opposed to what your old phone had, so you won't have to get a new charger. And that is a good thing. Though honestly, I suspect this chance is mainly an advantage for the company, not having to manufacture three different models. That's fine and absolutely understandable. No quibble at all with them doing so, and it's a clever idea. But I preferred the design of the original ReCharge+. That had a clean, rectangle shape. This version, though, requires a mechanism at the bottom that allows you to pop up the blank peg, so it sticks out, a bit awkwardly for my taste. There are some other changes, more on them later, but this is the biggest switch.

There are two additional plugs, one of which is particularly notable. That's a pull-out AC plug, which means you can conveniently charge the device in an AC outlet without needing to carry an adapter (I've see built-in AC chargers on a few other portable chargers, but those have been much thicker and heavier.) The other plug is a built-in cord with a standard USB connector, in case there's no AC outlet handy, so you can charge the device in a computer. Moreover, there's a micro-USB port, which allows you to plug in a separate cable and charge a second device at the same time. So, as you can see, the ReCharge+ 2.0 impressively has multi-taking well-handled.
Because of how it plugs into your phone sitting on the platform, the connection can be a bit "wobbly," so Thinium includes tiny suction cups that you can place on the charger which are intended to give extra support for your phone when charging. I found them useless, since they had almost no suction for holding the back cover. What they added for this new model though is a magnet which you put on the back of your phone, and it will snap the phone tight to the charger. In theory, that's great—but I don't know if many people will want to put a magnet on the back of their phone. Far better is a simple, third option—when your phone is connected, just push the platform back in until the phone is flush against the charger. It will sit tightly then.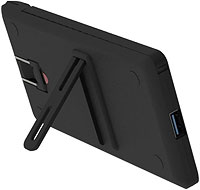 Thinium has also added a kickstand feature. If you want to use it, this is a piece of plastic that slides into a slot on the back. Then, you can turn your phone on its side—horizontal—and watch a video or play a game while charging. I don't think this is something most people will use often or at all (and the slot bulges out a little, mucking up the clean lines of the charger), but…since these are two activities that eat up a lot of power, it's not an unreasonable feature to offer.
I've grown to like the original ReCHARGE+ and now the 2.0. It has a good build, is very thin and light, and has built-in plugs and a built-in AC charger. The design isn't as clean and sleek for me as the original version, and I was fine with a dedicated plug for my phone, but I do accept there are advantages with the swappable pins. It's a personal choice if you like the "platform" rather than a built-in cord, but it works well. Most notably, the charger is extremely convenient with so many features built-in. If you have need for two different kinds of connectors (or more likely expect to buy a new phone eventually that uses USB Type-C), this is the ReCharge+ version to get—otherwise, the original has a cleaner design. My only real quibble with the Thiniums is that the 3,000 mAh is a bit low. Not problematically so, but I expected at least 4,000 mAh. It retails for $70 which, at the time of writing, is the same price I could find it for online.
Facebook has come under significant scrutiny for how its ad-buyer policy was misused during the 2016 elections. Among the many steps it may take to address some of those concerns, one which it just announced may perhaps be the most surprising…because it's going Old School. The social network announced that it will send out postcards through the regular surface U.S. mail to verify the identity and location of people buying election ads.
If you plan to travel to Europe, and France is on your itinerary, be careful about using you mobile phone if you rent a car. And "be careful" is herein defined as "Don't." France has just passed a new law making it illegal to use your phone when in a car. Even if you've stopped the vehicle—and turned it off. There are a few exceptions. The law doesn't apply to cars that have hands-free systems, or if you're in a designated parking area, parked off-road or your car has actually broken down. Otherwise, though, the fine will be around the equivalent of $167.
By the time you read this, Samsung will have introduced its new Galaxy S9, which is expected to have a better camera, be faster and cost perhaps $140 more than the company's previous model. But what's more intriguing with Samsung is if they actually do come up their reported "foldable" model later in the year. It's not certain if "foldable" relates to the screen or what, but already there are screens that bend. One important thing that a "foldable" screen would allow is to open up a phone wider to allow for a much bigger screen when the two folded parts are side-by-side, while another is that it allows for two screens on which to operate.
To read more from Robert J. Elisberg about other matters from politics, entertainment, technology, humor, sports, and a few things in between, see Elisberg Industries. He can also be followed at a distance on Twitter or Facebook.
Note: The Writers Guild of America West neither implicitly nor explicitly endorses opinions or attitudes expressed in this article.
Copyright 2018, Robert J. Elisberg. All rights reserved.