The Writers Workbench
Let There Be Light
The Writers Workbench spotlights two products that bring bright ideas to life.

August 9, 2018
By Robert J. Elisberg
This month's column is a bit light, literally. We look at two products about…well, light—one, a totally odd twist on the subject (the phrasing of which is closer to reality than you might otherwise think), and the other a basic bulb on steroids. Though very different from one another, they have one thing in common—both got investments from Mark Cuban on the TV show, Shark Tank. Having them here this month side-by-side is totally by chance. I initially came across the companies when wandering the halls of the Consumer Electronics Show, reviewed some of their products in the past, and this month it just worked out that way. Sometimes, a bright idea turns out well…
POWER PRACTICAL LUMINOODLE LIGHT ROPE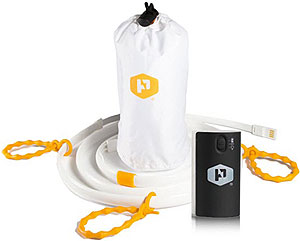 Power Practical is a very inventive lighting company whose products I've reviewed previously. As I noted, you may have even seen them on Shark Tank. They're the company—just starting up at that point—that had developed a small pot that acted as a charger when you boiled water in it. (Hey, I told you they were very inventive.) Most of the "Sharks" couldn't see the point of it, even for camping, though Mark Cuban did and became an investor. The company no longer offers that pot—I suspect it was a sort of "proof of concept" thing of what they could do—but their vision has expanded to many products at this point.
The Luminoodle is one of the oddest—which is saying a lot for this company—but remarkably, for all its oddity, absolutely fascinating and extremely good. But how on earth to describe it? Hmmm. Let's go with this, since there's no easy way: the Luminoodle is a long cord (it comes in either 5 feet or 10 feet incarnations) that has a lot of small LED lights embedded in it. And when you plug the cord into a battery pack, they turn on like—okay, think of it like Christmas lights. It's quite bright, and that's just the 5-foot version that gives off 180 lumens. [Note: this photo includes a battery pack, but that's extra. You can use your own battery.]
What's so good about the Luminoodle is how many clever and thoughtful ways it works. For starters, there's a loop at one end that lets you hang the cord, whether in a camping tent, or from a hook in your home during a blackout. In addition, there are three magnets as part of the cord—two are embedded at each end, and a third is in a slider which allows you to position it anywhere along the cord. This means you can attach the Luminoodle to any metal object—for instance the inside of the hood of your car, if you have to work on it at night.
It also comes with two, short orange ties that you can connect anywhere to the Luminoodle, allowing you to string the cord along trees or to any objects.
Or you can just bundle the cord up, connect it to a battery pack and stuff it all in the included sack, turning the device into a lantern. And you can simply strap the cord around you when walking or riding a bike at night.
In another nice touch, the USB plug at one end of the Luminoodle is dual-sided, which means it'll go into any standard USB port from either direction which is helpful for a product that you may well be setting up in the dark.
The Luminoodle is waterproof and won't ever lose power—because there's no power. As long as you have any charged battery pack handy, which seems likely, or a USB port in your car (which most new vehicles have these days), you just plug it in.
Though the Luminoodle is ostensibly made for camping or outdoor use, it's also a valuable device for inside if there's a blackout. As I said, most people will have battery packs around—if only for charging your cell phone. It works easily, it's cleverly designed and unlike most flashlights or lanterns, it has multiple uses. It wouldn't work well at all as a flashlight, although because it's reasonably bright, you can get some benefits for that in nearby areas.
Power Practical makes different versions of the Luminoodle. Most notable is the one with colored lights and a remote control for adjusting them—and being inventive folks they include the same switches built into the cord in case you lose the remote.
You can find the Luminoodle Light Rope on their site or Amazon for $20 for the 5-foot model reviewed here, or $30 for the 10-foot version. As I mentioned, this does not come with a battery pack. However, they offer an option that does include a 4400 mAh Lithium battery for $20 extra.
ILUMI A19 COLOR LED SMART LIGHT BULB
There are many fine reasons to have one's house or apartment wired as a Smart Home—and many fine reasons not to. If you fall into the "not to" category, but still want your home to be Smart (we're talking technology here, family members are out of the purview of this column, alas), there are options. And one of the most basic are Smart light bulbs.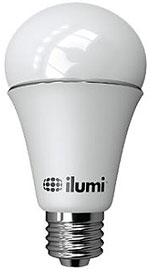 There are a few ways to travel on this—one is basically that you plug in a hub and pair the Smart bulb with it. The other is that the device itself has everything built in. The latter may have less flexibility, but it's also easier to set up. And that's what we're testing here. No hub involved.
With the Ilumi A19, you simply screw in the heavy bulb, download the app, tap a few set-up keys to pair it, and you're done. Although the Smart bulb—which is 60 watts and 800 lumens—is obviously the foundation of everything, it's the app which is completely how you'll interact with it, so that will be the focus here.
(Focusing on the app is largely true for all these standalone bulbs. I was going to review another similar product for comparison, the Sengled Element Bulb which uses a hub, but when going to download the app, I saw the rating was SO low and the comments SO scathing I thought it best to check back later and see if things had been improved. Sengled is a good company with an extensive product line, so I have to expect that they'll deal with it.)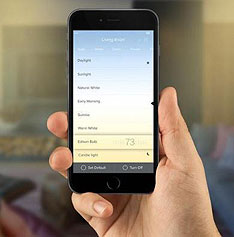 With the Ilumi app, you set up groups in which to pair your bulbs, depending on the room they're in. And then, within those rooms, you can configure the settings for each bulb.
To start with, a bulb setting is divided into white or colors. I couldn't discern a great difference between some of the "white" options—like Cool Light and Daylight looking the same to my eye, or why Sunlight and Daylight are considered different—but since there are eight options, you have plenty to choose from, including Candlelight, where the differences are clear. Within each option, you can set the brightness level.
Colored lights are handled differently. There you have a sort of palette and saturation wheel to adjust your preferences. And when you have something you like (whether for colors or whites), you can set it as one of your favorites for making easy, quick changes. And you can set one choice as your default for whenever you initially turn on a light.
There are two other options that overlap a bit. Presets and Effects. Presets are more for the type of mood the lighting will create. Various choices include Romance, Relax, Think, Focus, and Beauty, and there was a clear and fairly effective difference between them. Effects were pre-set, as well, but seem more for outdoors and were fluid, where colors continually change, rather than are static, such as Fireworks, Trick or Treat, Ocean, and an Effects version of Candlelight (which here actually "flickers"). Presets can also be made one of your Favorites, though Effects don't appear to be.
One of the most valuable options, I think, is Scheduling. The most basic is, of course, when you want lights to go on and off, which you can set up differently for each individual day of the week, or just make it the same for each day. However, you can also choose an option to change the type of lighting throughout the day—perhaps soft in the morning, sunlight in the afternoon, bright in the evening, and low later in the night. And there's also an option to design schedules to best impact your daily routine.
I found the schedules very easy to set up, though you do have to go through a few steps. However, deleting a schedule seemed to have a glitch, though when I figured out a workaround, it was easy enough. (If I dragged a scheduled setting to a different time, I could then delete it.) I also think that it's unfortunate they don't have a "Random" setting, for when you're on vacation, where the lights will go on-and-off and different times at night. You can manually do that for each day, but having one button would be significantly easier.
(And another scheduling oddity—if the bulb is off and you want to set a schedule to turn it on automatically later…the schedule will be set fine, but the bulb will also turn on when you set it. This isn't a big problem, since you can just turn it off—though I suppose if you're doing this in the dark and don't want to wake up another person, it could be an issue, though that would seem a rare situation.)
Finally, the app has a section it calls Experiences. Basically, this will let you sync your lighting to songs that you have in your device's music library or in Apple Music, or connect the app to Amazon's Alexa, so that you can use voice commands.
By the way, I was happy to find that if I moved the bulb to another room, it stayed paired, so you wouldn't have to set it up again. You only would have to edit its group name (from, say, "Bedroom" to "Living Room."
The app works reasonably well, though not everything does, in addition to the scheduling glitch I noted.
For instance, the app requires a great many permissions before it will install, like access to your device's microphone (even if you have no intention of using voice commands) and to GPS, which is a bit of a battery drain. (And why you need GPS for a product that sits inside your home or in your back yard, I haven't yet figured out.)
Also, it seems that you can only have one app active at a time. I tested this on both an Android phone and an iPad—and when one was operational and paired, the other wouldn't connect. But as soon as I shut down the working-app, the other immediately kicked in.
Know too that unlike with a wired Smart home, you can't use the Ilumi app from a remote location. It runs on Bluetooth, so managing everything is local.
The options on the kind of bulb you want is limited. Right now, you only have a choice of this 60 watt, 800 lumen bulb which for my taste is lower than I prefer. And keep in mind that if you like bulbs that burn lower, a 100 watt bulb (if it existed) could always been dimmed. The company also offers two 60 watt, 800 lumen floodlights, one for indoor and another for outdoor.
And one quibble about the Quick Start guide. It's not only tiny, with tiny print, but barebones, and a lot of the things I discovered were by trial-and-error, and I'm sure I haven't stumbled onto most things how it best works. There's a respectable Help Center on the website, but at the very least the Quick Start guide should provide a link to a detailed manual online.
These also will cost you a good deal more than standard bulbs—but then they do a great deal more. The A19 retails for $50. That's not unreasonable for what it does, but if you fill your home with them, the cost will mount. However, these are long-life bulbs, rated for 20 years, so that brings the cost down somewhat.
The Ilumi A19 is not at all for everyone. There are some things I quite like about it—setting schedules and quickly changing lighting if I was watching a movie, for instance, though I wish it was brighter. And wish there was a Random option for on-off. That said, a standard bulb on a dimmer would achieve some of the basic functions here. But this is for people who don't want basic. If you like changing the style of your lighting at different times of the day, or like colored lights on occasion, or throw parties, or want voice control over your lighting, things like that, then the A19 seems to work very nicely for things like that.
Back in the 1990s, Apple was on the verge of bankruptcy. On this past August 2, thanks to stronger than expected earnings, the company became the first U.S. corporation to hit a market capitalization of a trillion dollars. Amazon is right on their heels, however, and almost beat them to first. They're expected to announce stronger than expected earnings, as well, which will put them over the one trillion dollar mark. Their current market capitalization is $890 billion, starting $60 billion behind Apple.
You may not readily recognize the name of Huawei, but thanks to flat sales of the iPhone, the Chinese phone maker has jumped to #2 in phone sales worldwide, with 16% of the market. Samsung remains in first place with 21%, with Apple now in third at 12%.
If you've ever gotten into a head-crushing debate on Twitter and begin to wonder if your arguing with a bot (or perhaps a propaganda troll), there are several websites to help you find out if that's the case. Two of the better are Botometer and Bot Check. You just sign in with your Twitter handle, and enter the Twitter name of the account you're curious. (For example, my friend Ed Bott, who writes a superb tech column on ZDNet which you should bookmark and check out here, only scores a .2 on a scale of 5, which is very low but weird since he is probably the only actually Bott on Twitter…)
To read more from Robert J. Elisberg about other matters from politics, entertainment, technology, humor, sports, and a few things in between, see Elisberg Industries. He can also be followed at a distance on Twitter or Facebook.
Note: The Writers Guild of America West neither implicitly nor explicitly endorses opinions or attitudes expressed in this article.
Copyright 2018, Robert J. Elisberg. All rights reserved.