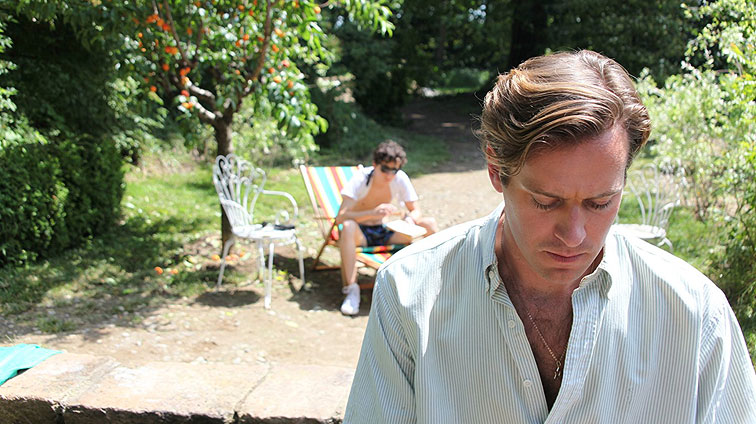 The iconic James Ivory explains why he wrote Call Me by Your Name on cardboard and describes what he sees as essential to a great film adaptation.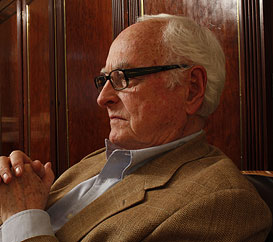 A lot of great stories and books aren't written all that great. It's everything about the story that's great.
A morning call to film icon James Ivory's Beverly Wilshire Hotel room finds a sharp, dryly playful 89-year-old without any of the tragic, bottled-up pretense that often defines characters from his films. For over a quarter of century, he's been making movies, directing and writing most with his two favorite collaborators, producer Ismail Merchant—his life partner of 44 years until his death in 2005—and screenwriter-novelist Ruth Prawer Jhabvala, who died in 2013. Howards End, A Room With a View and The Remains of the Day mark just a few of the films that helped make the trio's Merchant Ivory production company not just famous worldwide, but part of the pop-cultural lexicon—a term referring to lush, beautifully written period dramas, set in England, Europe, or India, and involving tragic romantic entanglements.
Call Me by Your Name, based on the same-titled 2007 André Acimen novel, is the indie lion's latest, but not last, work. The romantic coming-of-age drama centers on Oliver (Armie Hammer), an American grad student working in Italy in the early 1980s who falls for his professor boss' son, 17 year-old Elio (Timothée Chalamet). For the first time in his career, Ivory served only as screenwriter, working with Italian helmer Luca Guadagnino.
During a chat with the Writers Guild of America West website, Ivory spoke about how his love for Italy drew him to this project, why he writes on the cardboard from his dry cleaned shirts, and why a great story is more than the writing.
This is your first narrative feature that you've only written and not directed. Creatively, personally, what was that experience like?
It was enjoyable, very enjoyable. I just jumped right in. It came about because I was supposed to originally be the co-director with Luca Guadagnino being the other director. I said sure but I wanted to write a script and have my own script. I didn't want to work from any other script other than my own. Everyone was okay with that, and Luca was busy making Bigger Splash. I then did it. I had enjoyed the book very much, and I just sat down and started with page one of the book and went through it. I was doing other things at the same time so I would put it down and [then go] back to it, but it was a pleasure always.
Does it change your consciousness when you go into an adaption knowing you're not directing it?
Yes, it's a big difference. When I was writing it I thought I was going to direct it. If it's a director writing a script, it's a very different thing from a writer who's never been a director who's writing one. As you go along you can't help thinking and inventing or imagining all sorts of different little things you will bring into it. Here and there I had to invent little areas of it, because I just wanted to.
You made a crucial choice to not jump ahead several decades like the novel does. There are obviously logistical issues, like if you had actors you'll have to recast for older actors…
That was part of the problem. From the very beginning, Timothée Chalamet was involved with this. One of the people who bought the rights of the book is the agent of Timothée. He was there from the beginning. I thought it is not going to be possible to ever find an actor who can be Timmy at age 40—it was that sort of thing. And we had no idea then who was going to be Oliver, we only had Timothée to worry about. Secondly, [the last part of the book] was sort of a downer. It wasn't as complete and satisfying as the earlier three or four chapters. So I just decided at the very beginning—and I told everybody—I'm ending this when Oliver returns to America. And nobody said, "Well, you can't do that." Nobody stepped forward to try and make me change my mind.
Well, you're James Ivory.
Well, I could have been anybody. It was a logical thing to me.
You're one of the greatest adapters of literature in modern independent cinema, but you're not just sensitive to the original material, you have a real comfort with changing it.
Well, I worked with a master on that. I worked with Ruth Jhabvala. She was like that. Being an accomplished fiction writer and novelist herself, she didn't go down on her knees in front of these various classics we worked on. If they had flaws, and she found something unsatisfying about them, she fixed it up. I can tell you a whole long story about Howards End in that respect. I saw how she would do that—she was fearless. I also feel if you're going to adapt a novel, you really have to try as much as possible to hear the voice, the voice of the writer should be there, or the feel of the writer. Otherwise why do it? It's not just a story. A lot of great stories and books aren't written all that great. It's everything about the story that's great. You really have to hear the tone of voice of the original writer. That's essential.
That confidence to change great works seems to be key to your success. It's oft-said that the movie is never as good as the book. Do think that's true?
They are really different experiences. When people tell me that, I just say, "Yes, yes," but I don't really believe that on the whole. I believe the book is what it is, and if it's a wonderful book, it's always a wonderful book and a wonderful read. And if the film turns out well, it's a wonderful thing that you see and hear. They're just two utterly different things. A great book can be absolutely ruined by somebody, and they often have been. They're just two different things. So I don't really buy that for the most part.
Stories of unrequited or forgone love are familiar to your work. What about this particular story most resonates to you, or is singular to you?
One of the things that made we want to do it, it wasn't simply that it was a same-sex romance, but that it was a story set in Italy. That's what drew me in originally. It's what drew me into Room With a View. I love Italy, and I love going to Italy, and I'm terribly fond of many Italians. The opportunity to be in and of Italy, it's in the uppermost in my mind, that's what really pulled me into it. And the other thing was [that] the people who had brought the rights are my neighbors in upstate New York. They were trying out what to do with it and how to make it and how to get funding for it and do casting for it. They and I have a very close mutual friend, and they came to me and asked if I could be an executive producer for it. That's how I got into it. It wasn't originally to write the script, it was to be an executive producer for it. I said yes, of course, because it was Italian.
Given the three or so years you were tinkering with this script, are there any perils to setting a script down for a while and coming back to it when you're in a different space and mood?
Not for me. My whole life has been like that if you think about it. I've always lived in New York, but I've always left New York to do something. I've gone back and forth. I've always been on the move. It's never really bothered me. I can work anywhere, and I write in longhand. I don't have to have any kind of elaborate stuff to help me write. I just write on anything there is to write on, and I save the things I write. When I settle down I go back and write some more. It's never been a problem for me.
Do you have any weird, idiosyncratic routines or rituals in terms of where, when, or how you do the writing?
It seems very odd to other people. I can't write on a typewriter—maybe if I want a rewrite [I can]—and I'm not comfortable writing on a computer, I'm just not that good at it. So what I do is, I write it longhand, and after I've written something I think is okay, I may rewrite it several times. I type it up on an electric typewriter I have, and I put it aside, and I write some more. Eventually I have a lot of little pieces. So I paste those. Sometimes it's just a single word, or it's a line-by-line thing, or a paragraph-by-paragraph thing. Then I get several pages, and I give it to somebody who then puts it in a computer for me. That's how I work. When I finally give it to the person who transcribes it, it looks like an old fashioned telegram. You know how on an old fashioned telegraph, the lines are pasted on? That's how my script looks.
When you're writing longhand, are you writing with an ink pen or pencil?
A pen.
But you do a lot of rewriting?
Yes, as I go along, constantly. I always send my shirts to the laundry, and they come back with cardboards stuck inside of them. They're stiff, and they're great for lying in bed and writing. I have piles of these cardboards, which have what I write on them, including Call Me by Your Name. It's whatever's handy basically. Ruth Jhabvala was like that too. After she died we went through all her papers, and she wrote on every sort of thing. She just stuck it all together and kept it.
Just writing everywhere, when it comes to you.
It's when it comes to you, and it can come to you in the middle of the night.
You have an iconic, long career in film. Standing where you are now, what is your feeling of the health of cinematic writing?
I hear all the time that there are no good movies. I keep seeing good movies all the time. And they're written. Maybe they're not always American, they can be foreign films, but they're obviously written, and they're awfully good. I don't buy that. Things have to be written, and they're going to be well written here and there, and you're going to get a good film.
As somebody who comes from such a literary place cinematically, you don't feel there's any disintegration of the literary connection that cinema has?
I wouldn't venture an answer on that. I'm sure if you go from country to country, there are all types of people that will proclaim this or that. I don't feel that. I don't feel literature is dying. It's always going to be there as a source, I feel. Film is dying? I keep seeing all these good films.
As far as the current political and social climate in America, especially with a film like this, do you think it's a good time with a film like this?
Well, it's obviously a good time because it's a huge hit. It's like the stock market. Everybody likes it, and it has fantastic weekend numbers, so it must be a pretty good time. As far as just the time in general, artists do what they do. We just do it. It has nothing to do with the political climate of the country. I feel quite sure of myself, and most people I know do too.
© 2017 Writers Guild of America West