2018 TV Writer Access Project Honoree
Rick Marín
DRAMA/MINORITY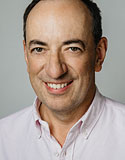 After the Spanish Civil War, Rick Marín's father was exiled to Venezuela before landing in Toronto, where Rick was born and raised. Having started his career at Newsweek and The New York Times, Rick left journalism to tell his own stories. His memoir Cad: Confessions of a Toxic Bachelor was a national bestseller that he adapted for Miramax. Which inspired Rick and his wife, Ilene Rosenzweig, to move to L.A. They eventually split up as a writing team (staying happily married) and Rick worked on shows like NBC's The Mysteries of Laura and George Lopez's FX comedy Saint George, where he was the only Latino in the room besides George. His one-act plays Neighborhood Watch and The One That Got Away were both produced by the acclaimed IAMA Theater Company. He also wrote a bestselling Kindle Single for Amazon called Keep Swinging about being the world's least likely sports dad.
The One-Percent Solution
This darkly comic drama takes Shakespeare's "Let's kill all the lawyers" to the next level: Let's kill all the rich people—at least the ones who deserve it. A down-and-out novelist and a rogue billionaire embark on a Star Chamber for our time about money, social justice and the outer limits of friendship.
CONTACT: lfimberg@gershla.com, huddle@fourthwallmanagement.com