2018 TV Writer Access Project Honoree
Kristen SaBerre
DRAMA/WOMEN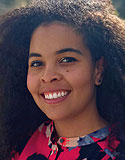 Kristen SaBerre is a screenwriter, producer, and author, born in New Orleans to a blackish family with a made up surname. She is currently writing for BETs hit scripted drama series Hit the Floor (McKinley Freeman, Logan Browning) and producing the short film and pilot presentation Patriettes. She has also written multiple titles for Lerner Publishing Group.
Raised in Birmingham, Alabama, Kristen comes from a family of athletes, avid readers, math team members, and percussionists. After high school, Kristen migrated north to attend Brown University and received her degree in English literature. While she's not writing, she enjoys playing Mah Jongg with her friends and practicing Marimba. Kristen currently lives in Los Feliz.
Code Noir
The biracial daughter of a French nobleman is sent to Louisiana to manage her father's slave plantation. Her duty to God, Country, and family are challenged for the first time by a newly discovered connection to her race.
CONTACT: Sam Warren & Harry Lengsfield, LBI