2018 TV Writer Access Project Honoree
Samuel Garza Bernstein
COMEDY/MINORITY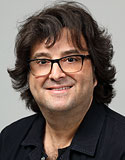 Samuel Garza Bernstein wrote the GLAAD nominated Paramount/Showtime movie Bobbie's Girl, which also received an Emmy nomination for star Bernadette Peters. Series credits include Shimmer and Shine, W.i.t.c.h., and Judging Amy, among others. Recently, he turned his award-winning nonfiction book about the man who created Confidential Magazine in the 1950s, "Mr. Confidential," into a stage musical that premiered at the New York Musical Theatre Festival, and his film script Elephant & Castle was named Best Screenplay by the London Film Awards and received a special citation from the British Independent Film Festival. Born to a Mexican mother and Jewish father, he grew up all over the world, living in Cairo, Honolulu, Austin, Phoenix, Albuquerque, New York, Los Angeles, and Ft. Collins, Colorado. He and husband Ronald Shore are currently being held hostage by three incorrigible dachshunds.
The Secret World of Danny Rizik
Pop star fantasies, war, child snatching, and Valley of the Dolls—True tales of a precocious Tween in 1970s Texas.
CONTACT: www.samuelgarzabernstein.com; Babyhead Productions, (310) 617-7225