2018 TV Writer Access Project Honoree
Matt McConkey
COMEDY/LGBT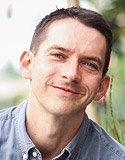 Matt McConkey is a staff writer on Heathers and recently sold a pitch for a dark comedy to Pop TV. He co-created the Comedy Central digital series Unsend with Paul Scheer and Deanna Cheng, and previously wrote on two seasons of Bajillion Dollar Propertie$. Matt co-hosts the podcast "Homophilia" with Dave Holmes (featured on Entertainment Weekly's "Must List"), and two of his pilot scripts have been named Official Selections at the New York Television Festival. Born and raised in Ohio, Matt graduated from NYU's Tisch School of the Arts, and has made guest star appearances on Happy Endings, Marry Me and Comedy Bang! Bang!
Hey Girl (script available upon request)
When a gay serial monogamist is left at the altar, he attempts to rebuild his life with the help of his callous friends. An ensemble comedy about the less likable members of the LGBTQ community.
CONTACT: slubliner@gotham-group.com, netz@caa.com, audrey.rowe@caa.com