2018 TV Writer Access Project Honoree
Marla DuMont
COMEDY/WOMEN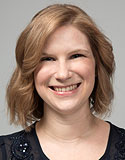 Marla DuMont was born and raised in Austin, Texas. She earned her M.F.A. in Writing for the Stage and Screen at Florida State University. Most recently, she was a writer on the television show Mike & Molly where she held the title of story editor. Marla's play, An Drochshaol, has been performed across the country: American Theatre of Actors (NY), Ringling International Arts Festival (FL), New Horizons Festival (FL), San Diego Playwrights' Organization (CA, reading). In 2017, her play, Bedtime Stories, was published in a collection entitled 30 Short Plays for Passionate Actors. Marla currently lives in Los Angeles and continues to write TV and plays. She also loves to play basketball and travel. Oh, and she is not a registered sex offender. Promise.
The Sex Offender Next Door
Claire (early 30s, impetuous and blindly optimistic) has always believed in love, but love has never really believed in her. After a relationship with her married boss goes south, Claire's short-sighted attempt at revenge lands her on the national sex offender registry and she is sentenced to live in Hope Haven, a rehab community of low-level sex offenders. There, as the only woman among 150 men, Claire discovers being a sex offender might just be the best thing that's ever happened for her love life.
CONTACT: Katy McCaffrey, Lynn Fimberg, and Sean Barclay, Gersh, (310) 274-6611; Matt Horwitz and Zadoc Angell, Echo Lake Entertainment, (310) 789-4790