2016 Feature Writer Access Project Honorees
The Inclusion and Equity Department of the Writers Guild of America West is pleased to announce the honorees for the 2016 WGAW Feature Writer Access Project, a program designed to identify excellent diverse feature film writers from groups that have been historically underrepresented.
Qualified WGAW members were invited to submit their work in one of the three diversity categories: minority writers; writers 60 and older; and women writers.
Scripts, which underwent two rounds of judging, were read and scored on a blind submission basis. The program's pool of second-round judges included WGAW members with extensive feature writing experience.
See more Feature Writer Access Project honorees: 2015, 2014, 2012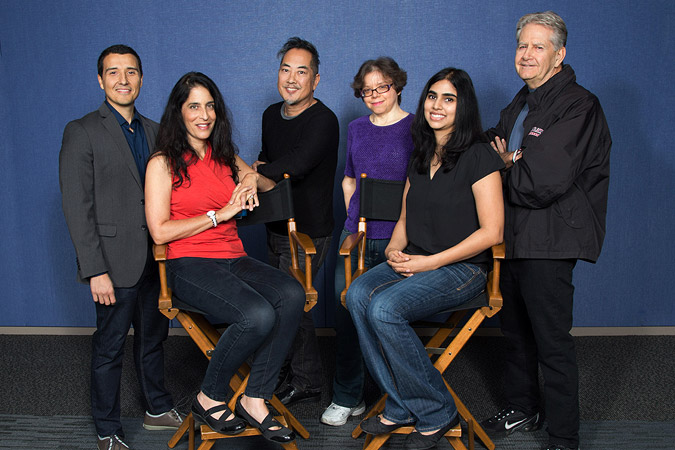 Photos: Michael Jones
[Left to right]: Gus Avila, Lisanne Sartor, John Lau, Karol Ruth Silverstein, Puja Maewal, Garner Simmons; [Not pictured] Rahda Bharadwaj, Victoria Fraser, Marc Weinberg
Click on the titles and writers' names to access their bios, contacts, and scripts.
---
Kingwood by Gus Avila
Fourteen-year-old Alex has an extraordinary autistic mind, but when he discovers his mother's illicit affair with his college-aged caretaker, Alex's life descends down a reckless path that may lead to his destruction...or his salvation.
---
Delilah by Radha Bharadwaj
A seemingly unexceptional, nondescript Indian woman gains employment in a wealthy Main Line Philadelphia home. She is hired as the caretaker to the heir: a gorgeous young hunk, who is paralyzed and confined to a wheelchair. As the young man begins to learn, his caretaker's appearance belies her dark agenda, and he finds himself roped into her sinister plans to avenge an old betrayal.
---
Running Dark by John Lau
When a former army investigator sees her long lost lover who she believed dead, she pursues him across Europe, placing both of them in mortal danger.
---
Jaya by Puja Maewal
Jaya, a young purse snatcher, survives Mumbai's unforgiving streets by posing as a boy and living among thieves, but when she encounters a wealthy businessman who may be the father who abandoned her, she sets out to reclaim her rightful place in his family.
---
Six Letter Word by Lisanne Sartor
Zoe is an atypical mom—young, socially inept, struggling to understand her autistic son—who joins forces with Pete, a troubled geneticist, to help her son; their relationship and a shared quest forces both of them to come to terms with their personal demons.
---
You're My Best Friend by Karol Ruth Silverstein
"Best friends"—Pie, an overly dramatic, 9 year-old cry baby and Beck, her 10 year-old, budding lesbian sister—nearly break apart along with their divorcing parents in the summer of '75.
---
The Wall by Garner Simmons
While covering Ronald Reagan's famous 1987 speech at the Berlin Wall, a former CIA Op, now a photojournalist, meets a young German mother with a terrible secret so haunting that he is compelled to take action rather than merely report the facts.
Inspired by actual events.
---
The Midnight Ride of William Dawes by Marc Weinberg & Victoria Fraser
His fame eclipsed by Paul Revere's, an embittered colonist plots his revenge 10 years after they both rode to warn of the British invasion. Through his bumbling efforts, he uncovers a French plot to kidnap George Washington and must summon his inner swashbuckler to save the day.