2015 Feature Writer Access Project Honorees
The Inclusion and Equity Department of the Writers Guild of America West is pleased to announce the honorees for the 2015 WGAW Feature Writer Access Project, a program designed to identify excellent diverse feature film writers from groups that have been historically underrepresented.
Qualified WGAW members were invited to submit their work in one of the three diversity categories: minority writers; writers 60 and older; and women writers.
Scripts, which underwent two rounds of judging, were read and scored on a blind submission basis. The program's pool of second-round judges included WGAW members with extensive feature writing experience.
See more Feature Writer Access Project honorees: 2014, 2012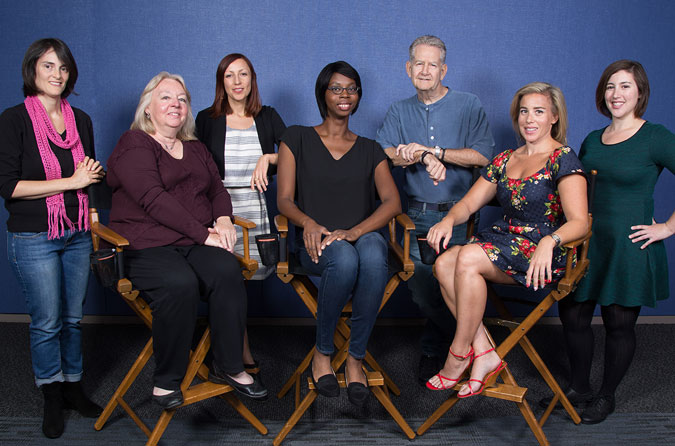 Photos: Michael Jones
[Left to right] Sheryl Zohn, Cynthia Riddle, Natalija Vekic, Elizabeth Oyebode, Garner Simmons, Carley Steiner, Chelsea Steiner; [Not pictured] Jill Isaacs, Syrie James, Bo Yeon Kim, Kat Smith, J.B. White
Click on the titles and writers' names to access their bios, contacts, and scripts.
---
A Cool State of Blood by Garner Simmons
When a prominent Philadelphia socialite is brutally raped and murdered, all evidence points to a troubled black NBA power forward whose dire financial straits force him to throw himself on the mercy of the court where he must be defended by an inexperienced young female attorney and a former prosecutor with a haunted past. A tale of sex, justice and redemption.
---
Angels Flight by Jill Isaacs
In 1941 Los Angeles, an ambitious, smart-assed Mexican American Private Eye solves a mystery about who is killing mass transit in Southern California. A Latin-flavored Chinatown, based on fact and rooted in the dark, convoluted history of Los Angeles.
---
Curtains by Cynthia Riddle
A tale of love, friendship, jealousy, and survival as legendary actress Sarah Bernhardt and her best friend and rival Marie Colombier battle each other for fame and love in 1870s Bohemian Paris.
---
Jane by Natalija Vekic
After her sister's fatal back alley abortion, Teresa, a bright, but naïve 1960's college student, joins Jane, an underground group who break the law and risk their lives to help women find access to safe abortions.
---
Misbegotten by J.B. White
After nearly drowning, a teenaged boy starts to change, in increasingly dark and violent ways that threaten to destroy him and his family.
---
Pole Position by Carley Steiner & Chelsea Steiner
Two best friends, an ex-gymnast single mom and a recently fired Hooters waitress, rally a team of unlikely women to compete in the national pole dancing championships. Think The Full Monty meets Bridesmaids.
---
Romancing Jane by Syrie James
A brilliant, aspiring novelist, struggling with insecurity, is inspired by a thrilling but complex love affair to write a literary masterpiece that leads to fame and immortality. Based on James's best-selling, award-winning novel.
---
Sexton by Elizabeth Oyebode
The true story of how the secrets and sins of a seemingly normal housewife helped her become a Pulitzer-winning 1960s icon then ultimately destroyed her.
---
The Last Rocket Home by Bo Yeon Kim
As humanity's mass exodus to a new habitable planet nears its completion, 21-year old Theo must journey across a dying Earth to reunite his estranged family and secure their passage on the final rocket out.
---
The Line by Kat Smith
Set in the largest twin towns on the U.S.-Mexico border, The Line illuminates the lives of the powerful and the plebian, the altruist and the criminal, in a world where internal struggles erupt in sudden passion, violence, and occasionally, acts of grace.
---
You Must Be Kidding Me by Sheryl Zohn
A young professional woman must suddenly fake having an 8-year-old daughter in order to please her ailing mother.