2012 Feature Writer Access Project Honorees
The WGAW Feature Writer Access Project is a pilot program modeled on the successful TV Writer Access Project for Mid-Level Television writers.
Coordinated by the WGAW Inclusion and Equity Department, the project seeks to identify outstanding diverse writers and make their scripts available to entertainment industry decision-makers, including producers, studio executives, agents and managers, in order to help raise their profile and generate potential employment opportunities. Writers selected will also be paired with an established WGAW feature writer as a career mentor.
Minority screenwriters were invited to submit a current, feature-length, unproduced spec script. Entries were read and scored on a blind submission basis by a panel of judges comprised of WGAW members recruited by the Feature Writer Access Project Advisory Committee.
The decision to target minority writers in the first year of this pilot program was based in significant part on the data and analysis contained in the 2011 Hollywood Writers Report Executive Summary. Statistically, minority writers are the most underemployed group of writers in feature films. In 2009, employment of minority writers in the feature films declined for the first time in a decade – from 6% to 5% of all writers employed in this segment.
2012 Feature Writer Access Project Honorees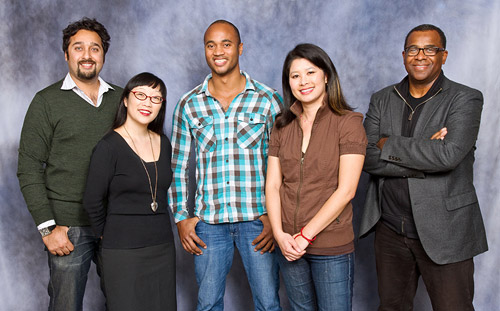 Photos: Michael Jones
[Left to right] Zak Shaikh, Paula Yoo, Chuck Hayward, Vivian Lee, Dwayne Johnson-Cochran
---
Dwayne Johnson-Cochran – Bio & contact info
Bibi
Bibi is an action-thriller about a 15-year-old former child soldier hired by a British ex-pat to kill his enemies in this post-civil war African country. When one of the enemies could quite possibly be Bibi's long lost father, an intriguing triangle emerges. Who can this boy trust? The man that pays him to kill or the father who left him to die? Read the script
---
Chuck Hayward – Bio & contact info
Potluck
A coming-of-age comedy about a close-knit group of high school friends who reassemble after a year away at college and futilely search for marijuana during a brutal dry spell in their boring hometown. Read the script
---
Vivian Lee – Bio & contact info
Eve at the Bar
When her family moves to Los Angeles to escape the shame her serial rapist/killer brother brought upon their family, STACI, a confused, guilt-ridden 14-year-old girl begins a dark exploration of identity through self-mutilation and sexual manipulation. Read the script
---
Zak Shaikh – Bio & contact info
The Ignoble Rise of Lord Rex
At an elite British boarding school, a witty and unethical scholarship kid becomes obsessed with his aristocratic classmate as they both attempt to get accepted into Cambridge.
---
Paula Yoo – Bio & contact info
Popular Science
An ambitious teen science geek secretly uses a popular girl as her test subject for a prestigious national high school science competition, setting into motion a Frankenstein-like disaster when she fails to compute their growing friendship into the equation. Read the script